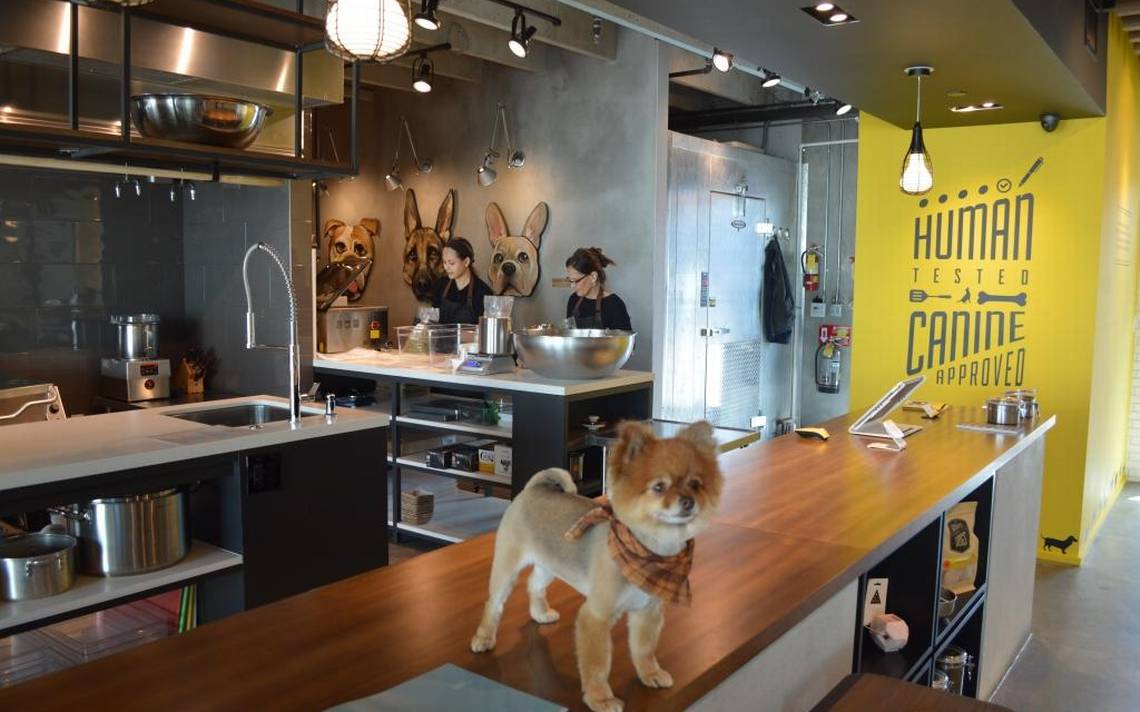 Floor-to-ceiling windows, state-of-the art open kitchen, cool art and a bar top — a typical Wynwood food spot. At one new trendy location, though, the menu — featuring basil beef with peas, pearls and pears; herb roasted turkey and sweet potato; lamb with mint vegetables and millet — sounds delicious, but tastes like dog food.
Dishes for Dogs Canine Kitchen brings your pup all the luxury of your Friday night out to its daily dinner bowl.
Company founder Michael O'Rourke first began cooking dog food to pamper his beloved Pomeranian, Ripley. (On Facebook, Ripley is described as Dishes for Dogs' CEO and O'Rourke as her "human assistant.")
About five years ago, "Ripley started getting teary eyes and her health wasn't optimal. I got scared," said O'Rourke, 28. "I started looking into her food. Her diet consisted of the packaged processed food commercial wet and dry food you buy at supermarkets."
Living in California at the time, O'Rourke began cooking homemade dishes for Ripley and noticed a vast improvement in her health. He then started cooking for his friends' and family's dogs, as well.
O'Rourke often visited his parents, who live in South Beach, and he loved how pet-friendly South Florida had become. He knew Miami would be the place to open his thought-out concept of bringing fresh homemade meals to dogs.
"When Michael came to my husband and I, we thought it was a great idea," said O'Rourke's mother, Wanda. "I was always in the kitchen cooking or baking, so his idea made sense."
O'Rourke contacted Dr. Justin Shmalberg, a board-certified veterinarian who specializes in small animal clinical nutrition. Shmalberg, a faculty member at the University of Florida College of Veterinary Medicine, developed and formulated the recipes to ensure that the Dishes For Dogs meals offered the highest nutritional benefits possible.
O'Rourke moved to Miami and for 2½ years cooked gourmet dog food out of his mother's kitchen, and sold it at local farmers' markets.
The overwhelming support at the farmers' markets led the O'Rourkes to open Dishes for Dogs' first permanent to-go location last fall in the heart of Wynwood. The shop's motto: "Human tested, canine approved."
The food is cooked, vacuum sealed and frozen in plastic packages ranging in size from 8 to 80 ounces each.
Dog owners are encouraged to bring their pups to get a personal one-on-one session to discuss the best diet for their dog and to check out the cooking process in the open kitchen.
"The inspiration behind the open kitchen is that we really wanted people to see not just the quality of the ingredients but to see how the food was made," said O'Rourke, who hopes to someday expand the menu to include cat food.
Customer Scott Thomas has shopped at Dishes for Dogs for the past three months because he wants to spoil Pepper, his 5-pound Yorkie, and to give her the "best treats out there."
Providing the best possible nutrition to your dog will not break your bank account, O'Rourke said.
"People's first assumption is that the price is going to be outrageous, but it is right in-line with most premium branded wet foods," he said.
You can feed your 10-pound dog starting at $16.82 per week. Prices vary depending on your dog's weight and your choosing of meat. Dishes for Dogs also delivers within a 15-mile radius, $5 within one mile and $2 for each additional mile.
"The meals are cooked with a lot of love and a lot of care; we hope people will enjoy what we have for them," Wanda O'Rourke said.
The store at 2561 N. Miami Ave. in Wynwood is open from 10 a.m. to 7 p.m. Tuesdays through Saturdays and 10 a.m. to 6 p.m. Sundays.
For more information, visit www.dishesfordogs.com, call 305-505-5712 or follow their social media @DishesforDogs