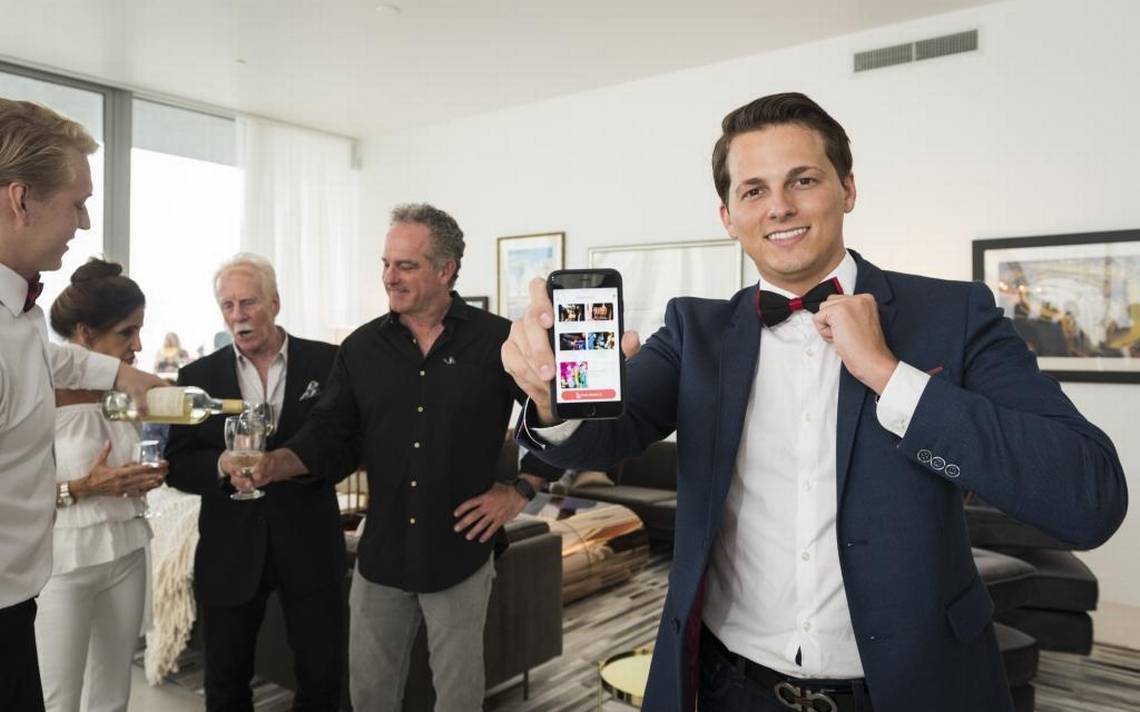 Startup Spotlight: PartyTap
Headquarters: Miami
Concept: A party and event staffing app that allows anyone to order staff with a few taps on a smartphone.
Story: After graduating from the Culinary Institute of America in upstate New York, Jordan Hamilton moved to sunny Miami to attend Florida International University's hospitality/tourism management program and worked as a private chef for extra cash. "I would very often get requests to bring bartenders, waitstaff and photographers with me for larger events and was surprised my clients didn't have a good place to get these services. That's when I would search Google to call each company, compare reviews, compare pricing, and it would take days or sometimes weeks to confirm," Hamilton said. "It was that 'apple on the head' moment I thought of a platform where people could open their smartphone and order party staff like they would order an Uber."
Hamilton shared his app idea with one of his private chef clients, Sarah Lacharlotte, one evening after an event, and she became his first investor and co-founder. So he hung up his chef's hat, and it took him about a year to design and develop the PartyTap app, with the help of WorkN, a tech company from Atlanta, and teams in India and Hungary.
PartyTap essentially democratizes party staffing by pairing up private party planners and small companies with bartenders, waitstaff and other service providers so that individuals and smaller organizations can easily put together the same type of events large corporations with big budgets can. The app saves time and money by offering bartenders, servers, photographers, DJs and cleanup services in one place, with preset pricing so you know what you are paying before booking, whether it's months in advance or even just six hours. Coming later this month to the app: catering and valet services. All PartyTap's staff are vetted and hand-selected to ensure they are the best fit for the job. After the event, they are rated 1-5 stars so PartyTap can monitor how each staff member is performing.
"With this app you simply open it, select the staff you need, add your credit card and send the request. You are updated in real time with staff who accept your request and that's it. What would have taken multiple phone calls and days of planning now takes less than five minutes and a couple taps on our app," Hamilton said.
The free app is available on the Apple App and Google Play stores. PartyTap makes a percentage of each transaction booked on the app. PartyTap is servicing Miami Dade, Broward and Palm Beach counties, and Hamilton is launching in Aspen and Las Vegas — two big party markets — in the next couple of months as he begins a national expansion. "Expansion into key markets like Las Vegas, New York City, Atlanta, Aspen, Los Angeles and San Francisco will really help us do some damage in the party/event staffing space," Hamilton said.
Launched: Jan. 15, 2017, on Apple App Store and Google Play
Website: www.partytap.com
Management team: Jordan Hamilton, founder and CEO; Sarah Lacharlotte, co-founder.
No. of employees: 2 employees and 400-plus contractors who work for the app (DJs, bartenders, photographers, valet, catering and waiters).
Financing: $85,000 raised from friends and family last year. Currently raising a seed round, aiming for $250,000 to $500,000.
Recent milestones reached: In South Florida, more than 400 service providers have joined the app, which has been downloaded more than 2,100 times. Revenue spiked 550 percent from March to April on services booked through the app and that momentum continued through May, Hamilton said.
Biggest startup challenge: Driving awareness about the app.
Next step: Expanding into key markets. Hamilton is raising seed funding to help fuel existing growth, increase marketing, hire city managers and recruit staff for expansion cities.
Follow @ndahlberg on Twitter.
READ MORE STARTUP SPOTLIGHTS
You, too, can be an animator. Yes, there's an app for that.
Miami startup reinvents shopping for emergency insurance
Want the yachting life - even for a day? Miami startup will hook you up
Want a fast, safe way to sell your gadgets? These entrepreneurs created one
Miami startup offers car washes on demand that save water too