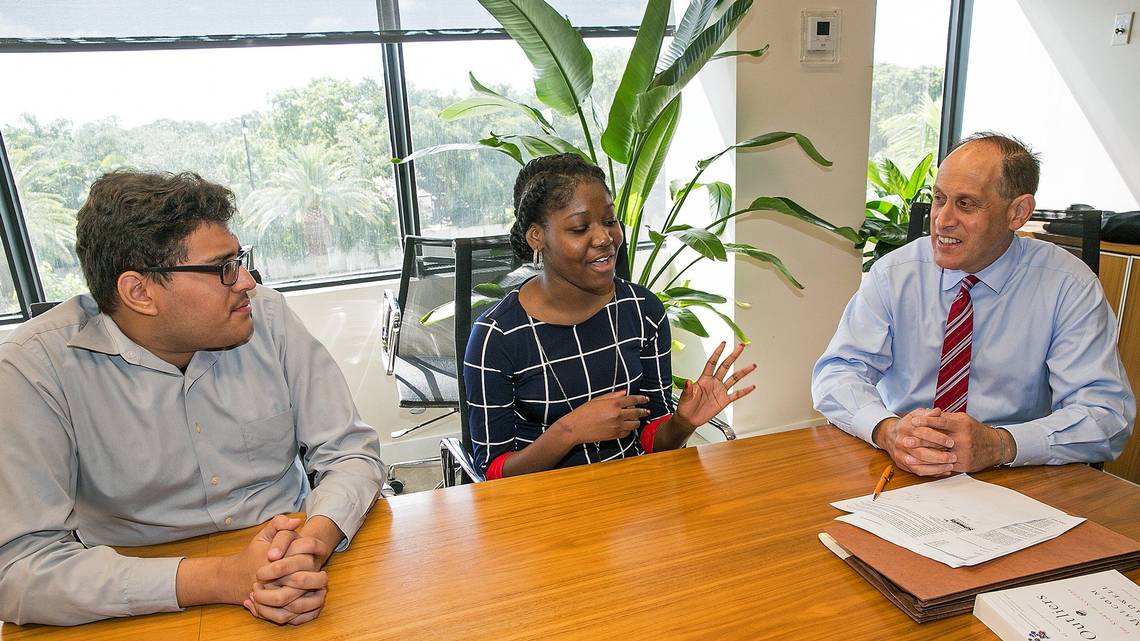 High school students Hilairee Lubin and Andres Arcia are working this summer for an accounting firm. They got their jobs as part of a program that links youths ages 16 to 19, many from the Overtown area, with work opportunities with summer employers.
Hilairee, a rising junior at Booker T. Washington High School, works with the accounting team. The daughter of an accountant, she did not think she would like following in her mother's footsteps until she started working at Gerson Preston.


"When I was little I was like, 'I don't like the cubicle life, it's not me.' But now that I'm inside the field I thought, 'Oh, this is what she does every day. OK this is kind of fun," said Hilairee, 16. "So life has a funny way of changing."
This year, Summer Jobs Connect Miami helped 225 lower-income young people find jobs. The Overtown Youth Center placed 100 of those youths, including Hilairee and Andres. Most of the youths in the program work in nonprofits.
Stuart Rohatiner, a Gerson Preston partner who supervises Hilairee and Andres, began working with the Overtown Youth Center after he met center executive director Tina Brown a few years ago. At first, he gave talks to area parents about financial literacy. When the youth center joined the city of Miami in administering the summer jobs program, Gerson Preston became a partner and Rohatiner agreed to supervise paid interns ($8.25 per hour) at the firm.
Rohatiner said that Gerson Preston is dedicated to helping its interns succeed and that firm founders, including partner Gary Gerson, have spent their professional lives giving back to the community.
"The founders here, have always been about education and exposure," Rohatiner said. "This is just carrying on the tradition."


A key component of the program is a requirement that participants set up a direct-deposit bank account and plan saving goals in order to teach them financial literacy. Participants are assigned a financial ambassador, a youth who is a little older than the intern, and they meet to set up these goals. Students save up in order to buy school supplies or to pay for college fees depending on their age.


Andres Arcia intends to study information technology at Miami Dade College and he is spending the summer working with the firm's IT team.
The Miami Jackson Senior High graduate is saving for traditional college expenses, and he also plans to use some of the money to build a computer. He appreciates the structure that the program has given him.
"The aid that the program has provided has helped me. It lent me a hand in reaching my financial goals and it has so far worked out for me."