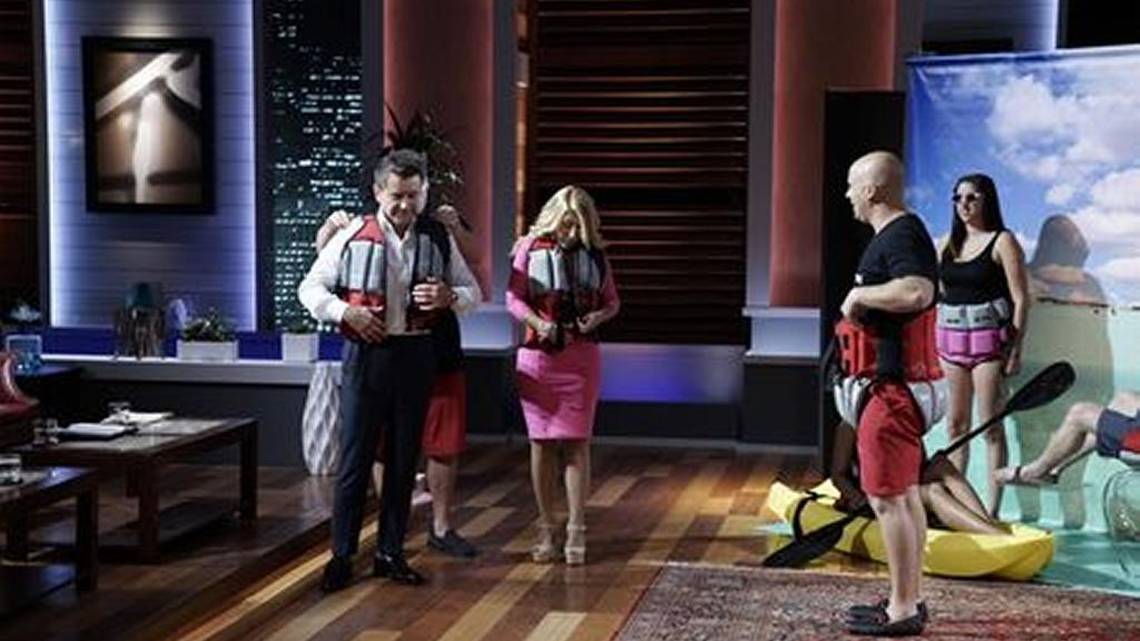 Will the "Human Bobbers" sink or swim in the "Shark Tank?''
Justin Rietema of Oakland Park and Doug Schultz of Coconut Creek invented the Human Bobber line of multipurpose personal flotation devices. They will appear on ABC's "Shark Tank' show at 9 p.m. Sunday to pitch their Bottoms Up, a dual-purpose life vest that can also be worn like a pair of shorts, and the Scuttlebutt, a saddle-like float that's also an in-water lounge chair or kayak seat.
"We are boaters at heart, and after watersports like tubing, water skiing and wakeboading, we would often anchor up our boat and float around in the water with some drinks," Schultz said. "Most of the guys in our group would just put on a life vest upside down and use that as a saddle for floating, but as you can imagine, life vests are not designed for that. There was foam in all the wrong places."
Rietema and Schultz have day jobs as landscape architects, but formed H3O Sports in 2011 as a side hustle.
After creating and testing several hand-made Human Bobber prototypes, they began manufacturing and selling the Bottoms Up and the Scuttlebutt on HumanBobber.com in 2012. Both products are patented, Rietema said.
Sales were slow at first, but in 2016, Bottoms Up received U.S. Coast Guard approval as a type III flotation aid suitable for rescues in calm waters. The process took two years but was worth it, Rietema said. Before 2016, sales totaled about $60,000, but with last year's sales and this year they will likely nearly double that. Another popular item is their Beverage Bobber, which runs $16 to $18.
Today, Rietema and Schultz still have their day jobs — but their hopes are high the Sharks will bite. The Sharks have taken a liking to other South Floridians' products, including the AquaVault and Three Jerks Jerky. On Sunday, they will face Mark Cuban, Lori Greiner, Robert Herjavec, Daymond John and Kevin O'Leary.
Like all "Shark Tank'' contestants, these two entrepreneurs have to be hush-hush about the outcome of their time in the tank, but whatever happens, they are planning to toast the journey at a watch party Sunday night at 26 Degree Brewing Company in Pompano Beach. No Beverage Bobber needed. Bottoms up!
UPDATE AFTER THE SHOW: On Sunday night, O'Leary pledged to back the inventors with $120,000. Cuban said he would provide accounting and other business expertise. Rietema and Schulz entered the Shark Tank seeking $120,000 in exchange for 15 percent of their business. They ended up awarding 33 percent to O'Leary and 10 percent to Cuban.
Follow @ndahlberg on Twitter.