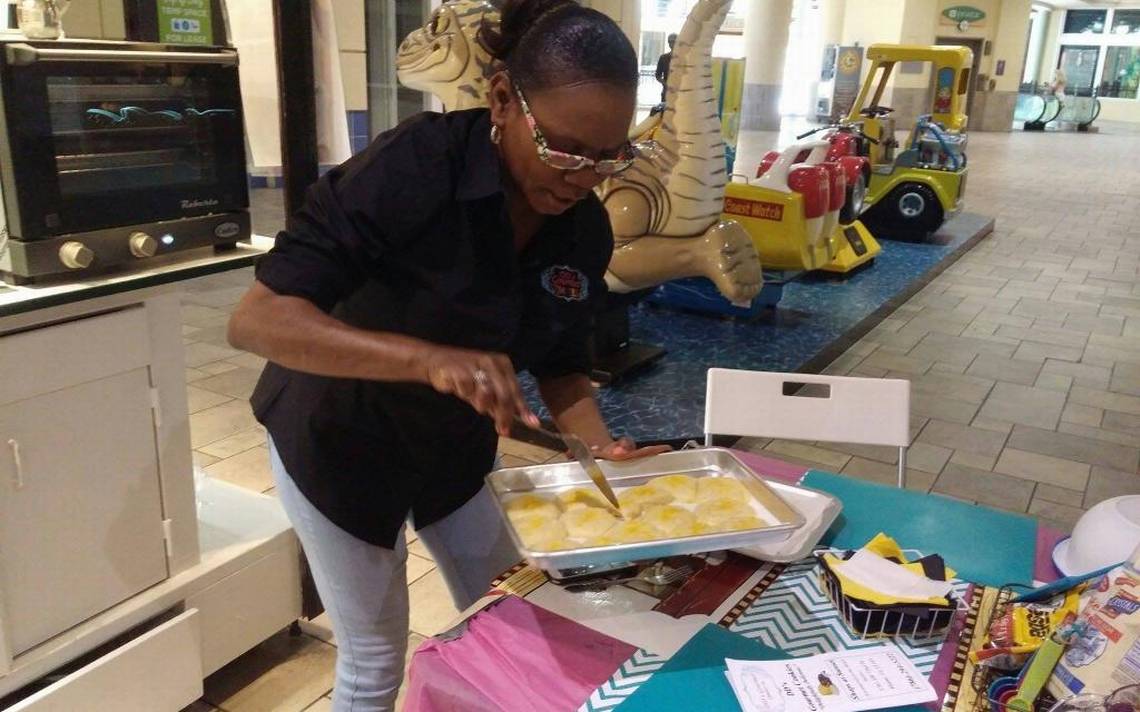 Deborah Frazier, 60, was never content being a dentist's assistant or a waitress. She had a vision to have her own cookie stall — and recently, her dream became a reality.
The proud owner of DD's Gourmet Cookie, Frazier opened a kiosk on the second floor of The Shops at Sunset Place in South Miami, just opposite the ticket booth of AMC Sunset Place 24. The small stall already has a steady stream of customers, with about 200 people attending the grand opening Feb. 18.
For Frazier, apart from fulfilling a dream, there was a simpler reason to start this stall. She loved to bake, and she loved seeing people's faces light up when they ate her cookies, especially children.
"I loved baking ever since I was a little girl, and when I had my nieces and nephews I would bake for them, they would be so happy," Frazier said. "I love seeing kids smile, and I love putting a smile on people's faces."
Frazier's cookies have drawn multiple compliments on the texture and taste, which she attributes to using no white sugar, artificial coloring or preservatives. Each cookie is packed with multiple ingredients, especially her signature cookie, Backyard All The Way — made with dark and white chocolate chips, Reese's chips, peanut butter and maple bacon, and dashed with sea salt.
"I want this cookie to take people away to their fantasy, to have all their troubles and worries melt away when you take a bite," Frazier said.
Other sweets she sells include lemon drop sugar cookies, based on her love for lemon martinis; fruity cookies made purely from natural fruit juices; and even a vegan cookie made entirely out of organic wheat flour and dried fruit.
Frazier's warming and uplifting personality has made her a very approachable person. She already has become close with mall janitors and security officers, who affectionately refer her to as "mama." Frazier also wins the heart of parents when she gives children free samples.
"She is a delightful woman who saw my kid looking at her and gave him a cookie to try," said Maria Fernandez, a mother passing by the kiosk. "You can tell she's really comfortable with children. And he loved the cookie. I have to bring my husband here next time."
Frazier said the name 'DD' is a play on her nickname, Dee Dee, and that her cookies are "delightfully delicious."
The path to owning a store was difficult, Frazier said, especially because she did everything by herself.
"Some of my friends asked me how did I get everything together with no help," Frazier said. "If there is a will, there's a way. I love a challenge, and I am glad to see it all come together."
Fifteen years ago, Frazier had a temporary cookie route near CocoWalk. She became well known by employees in the area and eventually they would call to place orders, giving Frazier the confidence that one day she could set up a stall at a permanent location.
When she worked as a dental assistant and waitress, Frazier set money aside to invest in her cookie business. When a kiosk became available in The Shops at Sunset Place, she quickly seized on the opportunity, set up utilities, spent a few dollars on advertising, and before she knew it, the three-month process slowly became a reality.
"I always had my vision, I kept my eye on the prize, and I was accumulating all the tools needed to open up the business," Frazier said. "It's been an amazing journey."