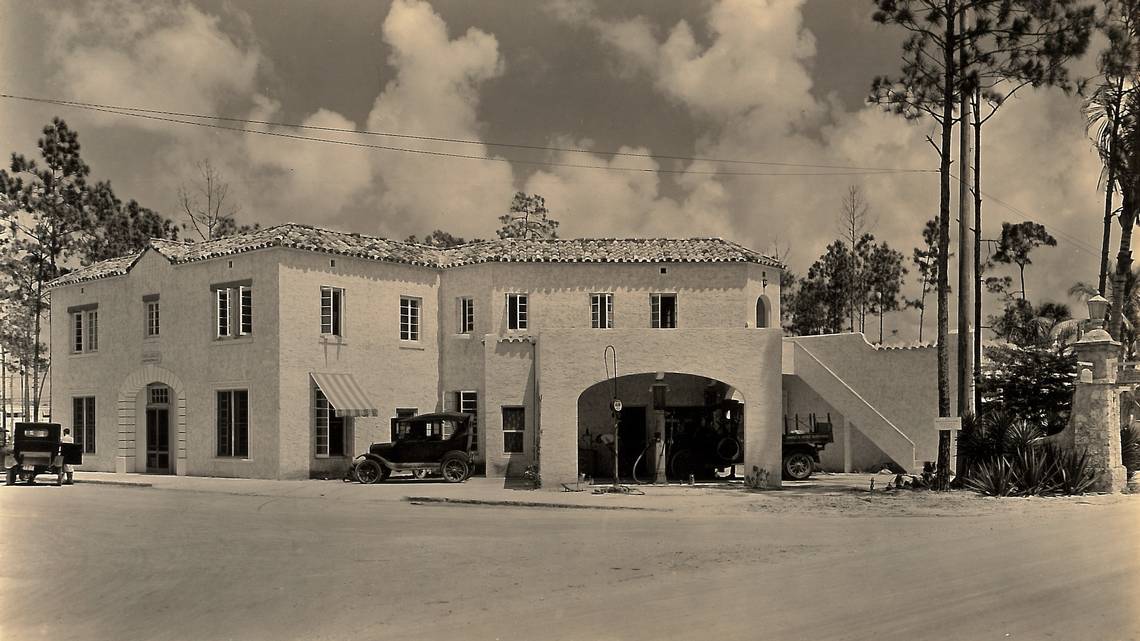 Coral Gables is renowned for its devotion to architectural preservation: The city even declared a home historic after someone bought it as a tear-down to halt its demolition and protect the Gables' Mediterranean patrimony.
But now the leaders of this bastion of preservation are pressing for the bulldozing of what some appalled activists contend is one of downtown Coral Gables' most significant remaining early commercial buildings — for use as a parking lot.
And it's causing quite a tizzy in the usually staid City Beautiful, where a building boom and a controversial makeover on its main shopping street already had some residents pondering whether the Gables has lost its way.
"It's very shortsighted," said Karelia Carbonell, president of the Historic Preservation Association of Coral Gables, whose last-ditch social-media charge to stop the 95-year-old building's pending demolition has prompted a groundswell of public outrage. "This building is older than city hall. Before anything, this is one of the originals.
"And here they are taking a wrecking ball to a historic building, for cars? These things don't add up in the City Beautiful vision. It's unexplainable."
The imbroglio over the fate of the old LaSalle Cleaners building — whose owner doesn't want it saved, either — has also put Gables Mayor Raul Valdes-Fauli under a spotlight. Valdes-Fauli, who has been a vocal supporter of demolition, has also represented a developer looking to buy the site for a hotel.


The preservation group, whose online salvo this week caught elected officials and administrators by surprise, has scored a preliminary win.
On Tuesday, the city commission's newest member, Michael Mena, asked administrators to put demolition on hold. In an email to preservationists, Mena, who supported the conversion into a parking lot, wrote he was not necessarily changing his mind but was willing to reconsider the matter. The discussion item was added to the commission's July 11 meeting agenda. Mena did not respond to a phone message requesting comment.
The showdown has been building quietly for more than a year.
At its center is a rundown, two-story Mediterranean building that dates to the city's founding in the early 1920s. The building, which occupies a prominent corner on LeJeune Road opposite City Hall, is the last surviving commercial structure from the original business district created by revered city father George Merrick.
Merrick, whose statue gazes out heroically from the City Hall lawn across LeJeune Road, had his construction company office in the building. Built in 1923 as a filling station, it was expanded the following year with a two-story addition housing offices and apartments.
For more than seven decades, it was home to LaSalle Cleaners, which earlier this year moved to a storefront across the street, leaving the building vacant.
Last year, facing the prospect of an empty, deteriorating building that would be hard if not impossible to lease, owner Mirella LaSalle (the cleaners business itself is owned by someone else) decided to explore redevelopment, she and partner Thor Bruce said in an interview. Due diligence, they noted, meant asking the city's preservation department whether it would be considered historic.
The city historic resources department's response was an emphatic "yes." In a painstakingly documented 42-page report, the city's preservation staff laid out an unusually strong case, concluding it met four criteria — only one is legally necessary — for protection as a historic landmark.
The report notes the LaSalle is one of just "a handful" of standing '20s commercial buildings in the city. Though stripped of some of its Mediterranean ornamentation, the building is largely intact behind some superficial alterations and could be restored to its original appearance, the report concludes.
"The property... is significant as a testament to George Merrick's vision for the City," the report reads. "This structure was prominently placed as an entry to Merrick's original business district. With its direct axis to City Hall it now holds additional prominence.
"The LaSalle Cleaners, by virtue of its prominent location and longevity, is a landmark to generations of Coral Gables residents."


Somehow, the Gables' usually vigilant corps of preservationists missed the hearing.
After the preservation board declined to designate the structure as historic, Mirella LaSalle said, she offered the city a lease on the property to expand an abutting public parking lot on Aragon Avenue. The city wanted an option to buy it, but LaSalle declined.
During an advertised April hearing, Valdes-Fauli and two commission colleagues voted 3-0 to authorize administrators to negotiate a five-year lease. A key condition of the lease: that the owner tear down the building.
At the hearing, Valdes-Fauli called the building — painted a decidedly un-Gables-like charcoal gray — "ugly." He echoed the preservation board's concern over its altered appearance and added: "The sooner we get rid of this ugly building, the better."
But the lot expansion, which would add at least 35 spaces, seems to contradict other longstanding city positions.
One is the city's rationale of a parking crunch caused by the reduction in street parking for the Miracle Mile redesign. In the past, city officials have publicly insisted, in the face of public complaints, there is an abundant supply of parking in the shopping district.
Also, the city has long frowned on surface lots, which are generally regarded as wasteful and not conducive to street life. At the April lease hearing, city manager Cathy Swanson-Rivenbark called for eventual redevelopment of the LaSalle site for a "signature use." Valdes-Fauli also urged the city to consider "alternate uses" for the property.
What the mayor, an attorney, did not publicly disclose is that he had already privately sought to do just that.
Before his election last year, he represented a developer in an unsuccessful bid to buy the property to build a hotel. Since assuming office, property owner Mirella LaSalle and her representatives say, Valdes-Fauli has continued to inquire informally if she remains interested in selling. LaSalle says she is not.
In an initial interview last week, Valdes-Fauli mentioned that a developer was interested in building a hotel on the site but did not bring up his involvement. In a subsequent interview this week, the mayor confirmed he had represented Fraga Properties in the purchase offer but said he no longer has any formal ties to the firm., though he said he is personal friends with principal Alberto Fraga.
Had there been an offer on the table when the LaSalle resolution came before the commission, Valdes-Fauli said he would have recused himself from the vote or stopped representing Fraga. But there wasn't, so he did not feel it necessary to disclose the relationship, he said. Ethics rules usually require recusal if an elected official or a city board member has a direct financial interest.
"Nothing happened," Valdes-Fauli said of the unsuccessful offer.
Commissioner Vince Lago, who along with Mena also voted for the lease, said in an interview last week he could not recall the details of the arrangement.
"I don't think demolishing this building is the best use for this property," he said. "Having a parking lot would not be the most aesthetic representation of what the city is."
Lago said he would check the public record to refresh his memory, but did not respond to subsequent phone messages and an email.
That vote on the lease, too, went unnoticed until a preservation-minded Gables resident went to the LaSalle Cleaner's new location, learned the old building was to be torn down and spread the alarm.
The fact that city officials would back the razing of a building so closely associated with its founder has many preservationists baffled.
"The citizens of Coral Gables deserve to know the full story behind this," said resident Jane Maranos, a former board member of the preservation association. "This isn't acceptable."
Valdes-Fauli defended the city's preservation record as second to none, noting it has recently spent millions to restore Merrick's historic city entrances and to purchase the downtown studio of one of his key architects, H. George Fink.
"You have to make choices," he said, emphasizing that he does believe the LaSalle building meets the high standard for preservation.
But preservationists insist it merits equal consideration.
"There is no question that the building is historic, and not just a standard historic building, but one that goes all the way back to incorporation of the city," said David Mitchell, a Preservation Association board member. "I understand the city's goal. They have a parking problem. I get it. But to get that parcel they have to tear down a historic building.
"The commissioners are the gatekeepers for our city. They have a chance now to take a second look before the damage is done."
LaSalle and Bruce say a reversal would be an unfair hardship. She has already spent a significant sum preparing for demolition, including removal of asbestos and testing the soil for contamination. That came up mostly clean, they said.
The cost of restoration, meanwhile, would be "prohibitive," Bruce said. The building's second-story is sagging badly and is uninhabitable, and the rest is in poor condition.
Preservationists say they sympathize but add that LaSalle has the option of selling to a developer willing to restore and perhaps expand the building to increase its economic viability, as many others in the Gables have done. Some say the city, which had sought an option to buy it from LaSalle, should purchase it and make restoration a condition of a deal to redevelop the existing parking lot.
"I think she should sell it to the city and let them restore it," Maranos said.