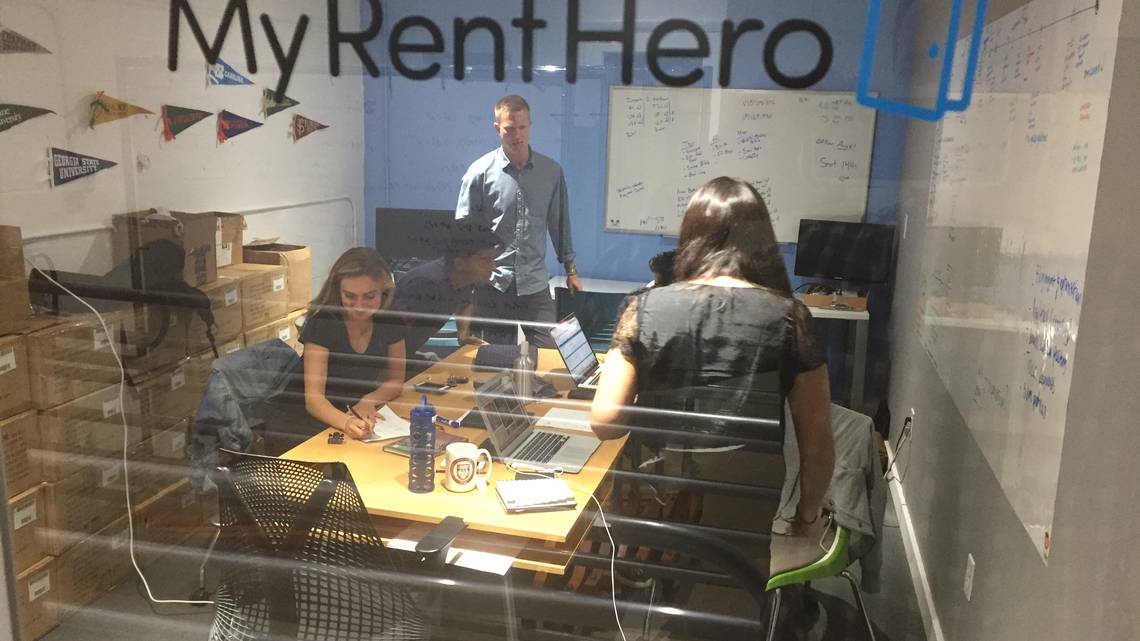 Searching for quality housing in Florida is hard for anyone on a budget. That goes double for college students, who compete against hundreds of thousands of their peers for the same affordable, attractive living spaces close to campus.
Wynwood-based MyRentHero is helping them land their dream apartments by connecting them to off-campus housing listings.
One might think that in 2018, the task of finding off-campus housing would have gotten easier. That's not true, CEO Greg Rothman says.
"The pain point [is] still there," he said.
Before being recruited to run MyRentHero, Rothman worked at breakout Miami startup Open English, an online language academy. The more he looked into the idea, the more he realized that searching for student housing hadn't changed much since the advent of Craigslist. Campuses today remain an archipelago of listings sites, none of them offering a complete solution to the problem.
Here's how the app works: If you're a student, you choose your university, set your criteria (price range, amenities, location). What separates MyRentHero from the pack is that one can immediately set up a tour, or start an application. And one application is used throughout your housing search. There is no fee for would-be renters.


For landlords, there's a free version of the platform as well as a subscription-based version that allows a property holder to sign up for features like rental applications, credit and background checks, and lease agreements.
MyRentHero also plans to partner with other consumer brands to offer common college needs like electronics and insurance.
"Our target is Gen-Z," he said, referring to the population born after the mid-90s that has grown up in the digital world. "They want the whole [apartment search] experience on their phone. No one is doing that right now."
MyRentHero's initial rollout at the University of Miami and University of South Florida last spring offered proof of demand: the app was downloaded about 4,000 times in just 30 days.


Now, the startup is expanding to six additional campuses: the University of Florida, the University of Central Florida, and Florida State University, alongside the three major schools in the metro Atlanta area. The goal: sign up 50,000 students by next spring, and list 75 properties per campus.
MyRentHero is the biggest startup developed by LAB Miami Ventures, a branch of LAB Miami, best known as Wynwood's first major co-working space.


LAB Miami Ventures, launched last year, is part of the "venture building" wave that has swept across the nation's startup scene. Venture building turns the traditional startup process around: You start with experienced business leaders and some seed money, market-test an idea, then hire an entrepreneur to roll it out.
Whereas many venture funds use what's referred to as a "spray and pray" approach—fund a lot of startups, and maybe one will become highly successful—a venture builder zeroes in on two or three opportunities and refines them. LAB Miami Ventures CEO Tigre Wenrich says that in addition to MyRentHero, they're now working on two other startups that will be rolled out over the next 12 months.
"We create a product, do the marketing campaigns, do market research," he said. "That's the cost of creating it...it's more time and payroll than cash." But it did take a figure "in the six figures" to get MyRentHero up and running, he said.
This week, MyRentHero secured its first major outside funding. Martin Claure, an investor (and the brother of main Miami soccer investor and Brightstar founder Marcelo) who has taken early stakes in Miami-based startups like Caribu, WhereBy.Us and Home61, has made a seed investment for an undisclosed amount to get the company through its next year.
"Nobody saw this," Claure said of the market for using tech to address the student housing process. "It's still a huge opportunity that hasn't been properly, frontally addressed."


For Wenrich, it's a sign that LAB Miami Ventures is on the right trajectory.
"We now have a product that's worked [for] a couple of campuses, a vision for how it can grow, and now, a partner who believes in that vision," Wenrich said. "That's the objective at the end of day."