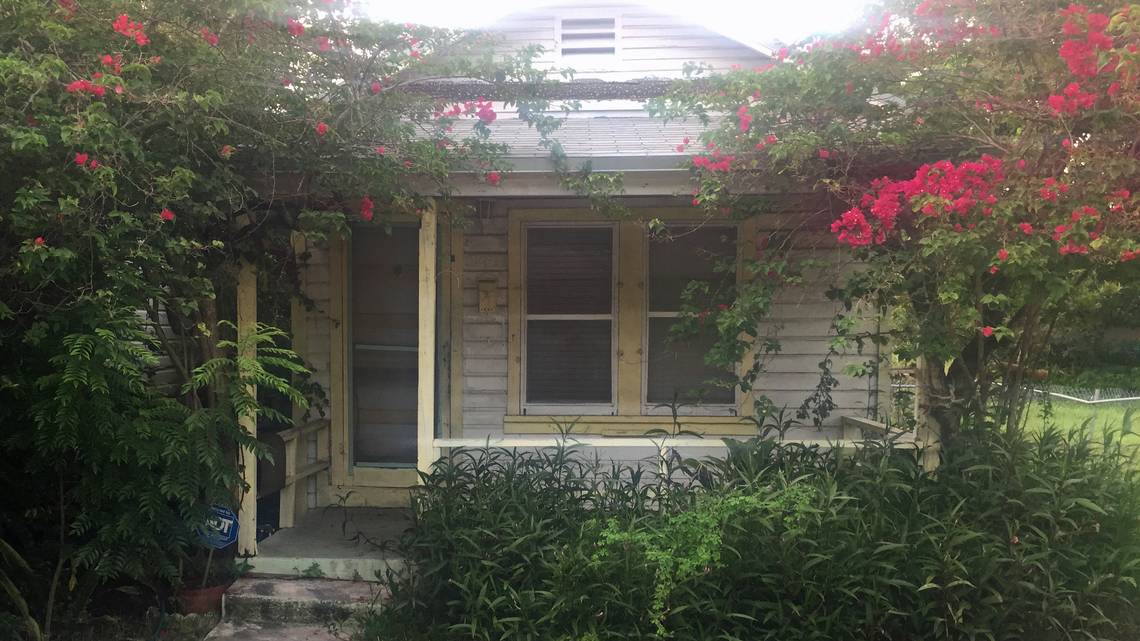 When Andrew Rasken learned that the two adjoining wood-frame houses he had purchased on the west side of Coconut Grove might become historic sites, he was determined to stop it.
The houses were past the point of saving, Rasken told city officials, and he planned to demolish them to build a new home on the property.
"For me and my wife, we have spent our life savings to purchase this property," Rasken wrote in an April email to staff in the city of Miami's historic planning department. "I have two small children, a 4-year-old and a 1-year-old, for whom I need to provide a place for them to live. ... Please help me!"
So far, the help that Rasken is seeking has not come. Rasken's homes — 3295 and 3297 Charles Ave. — were among 35 in the West Grove to be declared historic structures in July. All 35 are considered "shotgun" houses — narrow homes, often only one room wide, that were common in the South from the 1860s to the mid-1900s.
Historic planning officials, supported by District 2 Commissioner Ken Russell and local preservationists, hatched a plan this year to save about 50 shotgun homes, saying they represent the roots of a gentrifying neighborhood once occupied mostly by Bahamian immigrants and African-Americans.
But the process has been bitterly controversial, reflecting a broader debate across Miami over whether to save historic structures or let people build new structures on land they own.
Rasken has not stood alone. At a July 16 preservation-board meeting, the owners of more than two dozen shotgun homes spoke against historic designation of their properties, either in person or through an attorney.
Some said historic status would restrict their ability to alter their homes, driving down property values. Others said the city's designation process has been carried out haphazardly and applied inconsistently.
But Rasken's case stands out in several ways. For one, the developer has sparred with the city over demolition before. Earlier this year, the zoning board blocked him from tearing down a century-old cottage at the estate of Miami arts legend Charlie Cinnamon. Rasken's company had purchased the site for over $1 million. Rasken is appealing in circuit court.
Rasken has also taken an unconventional and controversial path to becoming a member of the very board that he has been battling. He was appointed to the preservation board in June by Commissioner Joe Carollo, a critic of the board's approach and an adversary of Russell.
"I jumped at the opportunity to serve on the Historic and Environmental Preservation Board and be able to have a contributing voice to decisions that will have a lasting impact," Rasken told the Miami Herald.
Carollo told the Herald he does not know Rasken personally but said his staff recommended the appointment.
"The [preservation] board has really gone overboard," Carollo said. "People have a right to their properties, unless there is a major need for the government to have it."
But Carollo said he was not aware that city officials have raised questions in recent months about unexplained damage to Rasken's homes. In some ways, the case has mirrored the larger battle over historic status in the neighborhood, where both supporters and opponents accuse the other side of not playing fair.
In March, an inspector visited the property and issued unsafe-building notices, opening the door to the possibility of a demolition permit. But the head of the building department's unsafe-structures unit, Rene Diaz, reviewed a report and photographs from the inspection, then told the Herald in an interview that damage to the houses' wooden clapboard did not appear to stem from natural causes.
"The way the damages were done, it made no sense from a structural point of view," Diaz told the Herald. "There were holes in the interior and exterior that made no sense that it would naturally deteriorate [to] that point."
Diaz said the homes would not have received an unsafe-building notice if not for this unnatural damage. He also believes the homes should be repaired.
Rasken vehemently disputes this.
"Since Mr. Diaz has never visited the interior of the property, [which was] allowed to deteriorate to slum conditions by [the previous owner], I would find it hard to believe that he can make an accurate assessment of the property status," Rasken said in an email.
Rasken said he believed the unsafe-structure notice would be grounds to have his property removed from the historic-designation list and then demolished. But the city's preservation staff ruled otherwise, saying the fate of the property would sit in limbo until the designation process, including Rasken's appeal, was complete. A hearing before the city's unsafe-structures board, which rules on whether unsafe buildings that are not being repaired ought to be demolished, was also put on hold.
In late April, the city attorney's office wrote a cease-and-desist letter to Rasken's company, ITD 3295 LLC, saying "individuals" had accused the owner of "performing alterations, construction, demolition or modifying exterior elements."
But Rasken has suggested the entire effort was orchestrated by Russell's office in an attempt to discredit him.
"Commissioner Russell fabricated this story to have me removed from the HEP Board and you have been his pawn in this entire process," Rasken told the Herald.
Russell initially declined to comment, citing Rasken's pending appeal. After this article was published online, he contacted the Herald to clarify that he has never spoken to Rasken and that he did not contact the newspaper about Rasken's property.
Photographs from mid-February and mid-March — some of which were shared with the Herald and others that were attached to public-meeting agendas — show that between those dates, parts of the houses' rear wooden clapboard siding became cracked, leaving gaps in the facade. A foundation block on which the houses stand, which previously appeared to stand upright, also became off-kilter.
Asked how the damage occurred, Rasken initially declined to comment. Then, presented with a list of questions from the Herald, including inquiries about the exterior damage, Rasken said the questions were "full of libelous accusations." Later, he had his attorney, Matthew Sarelson, send the Herald a cease-and-desist letter, saying Russell's office had "planted" the story.


Ultimately, Rasken said the damage was a mistake, writing in an email: "The damage to the exterior of the property was accidental as I was cleaning the [previous owner's] rear yard (which included open gas tanks and utter filth) in preparation of receiving my demolition permit; however, [this damage] had no bearing on the determination of my property ... as an unsafe structure."
City records show that no permits have been approved for work at the property, although it is not clear whether a permit would have been required for these particular changes. Typically, a permit is needed for work over $500.
Guillermo De La Paz, Rasken's neighbor on Charles Avenue, said Rasken brought a backhoe and a truck onto the property to clear the backyard of junk, including dog cages, playground equipment, and empty gasoline containers left by the previous owner. But De La Paz said he did not know anything about damage to the facade.
A transactions report of costs related to the property, which Rasken shared with the preservation board in July, lists the earliest payment on March 15 — $595 to Nova Surveyors, a land-surveying firm.
On March 16, Rasken sent photographs to historic-planning staff showing the exterior damage, as well as pictures from inside the homes, while he pushed to have the property removed from historic consideration.
"I wanted to extend an invite to you to visit the property with me so that I can show you the current conditions of the property which are certainly uninhabitable and beyond unsafe to revive," Rasken wrote in an email to Warren Adams, a city preservation officer, and Vickie Toranzo, a preservation planner.
Rasken attached three photographs, according to Adams, who shared them in response to a request from the Herald. One showed the back of the property with cracks in the exterior clapboard and the off-kilter foundation block; another showed cracked wooden panels inside one of the homes; and a third showed a dilapidated bathtub.
Adams and Toranzo visited the property on March 20, according to an email that Rasken sent them. Then, on March 21, Rasken delivered a formal complaint about the condition of the property to the building department's unsafe-structures division. The complaint was signed by De La Paz, Rasken's neighbor. Denise Matthews, a building-services assistant, said both were present when the complaint form was filled out.
That same day, inspector Raul Ramos visited the property and placed an unsafe-building notice on the homes' front doors. A report that Ramos filed says simply: "Property is currently abandoned and unsecured. Need to obtain demolition permit or properly secure/maintain property ASAP as per county codes and local ordenances [sic]."
The opinion of Diaz, the unsafe-structures chief, that the property was deemed unsafe as a direct result of damage to the facade does not appear to have been formally documented. Rasken emphasized this point to the Herald.
"As you can clearly see, it was determined to be unsafe because it is an abandoned, unguarded home," Rasken said, citing Ramos' report. "The damage that took place to the exterior of the property is not the reason for me being cited."
In a July document filed with the preservation board, Rasken noted that the insides of the homes have roof leaks, insects, exposed electrical wires, and mold.
The twin white houses with wide front porches and angled roofs were built in 1939. From the sidewalk, they look much today like they did in an early tax-card photograph — save for the addition of bushes with pink flowers and a chain-link fence.


Rasken owns four other properties in the city of Miami and lives in Palmetto Bay, according to online property records. Now, he stands in the thick of Coconut Grove tensions that have as much to do with the neighborhood's future as its past.
De La Paz, a real-estate agent who bought property on Charles Avenue in 2011 and built a home there in 2015, has similarly been the subject of criticism in the community. That's due in part to his decision to build a large home that stands out next to humbler ones on the same block. It's also due to his frequent reporting of code violations in an area that he feels has been neglected by the city and its residents alike.
He referred to the treatment of Rasken as a "witch hunt."
"I have been told I don't belong there," De La Paz told the Herald. "I can feel the pain of what Andrew is going through."
Ultimately, Rasken and De La Paz say questions about damage to Rasken's property miss the bigger point: that builders and homeowners in the West Grove have been targeted by city officials in an unfair process.
The most recent example of this targeting, Rasken says, is an amendment to city ordinances regarding who is allowed to serve on the preservation board. On July 28, the City Commission approved a change requiring board members to be eligible to vote in the city of Miami.
Russell noted that the legislation that included this change was sponsored by Carollo and Manolo Reyes. Russell said he had "nothing to do" with crafting it.
Suarez-Rivas, the assistant city attorney, told the Herald he believed this amendment would apply only to future appointees. Todd Hannon, the city clerk, said he was still seeking clarification on this point.
Rasken and his wife receive a homestead tax exemption on a Palmetto Bay home that they purchased in 2016, property records show. But Rasken, who has an office on Mary Street in Coconut Grove, says he wants to raise his family on Charles Avenue.
"Wanting to not have to commute one hour each way to work, and to have more time with my family by building a home closer to my Coconut Grove office is not a suspect action," he said.
By serving on the preservation board, he says, he wants to make Miami a better place.
"I was born and grew up in Miami," Rasken said, "and it is very important to me to share my experience to help improve the city."