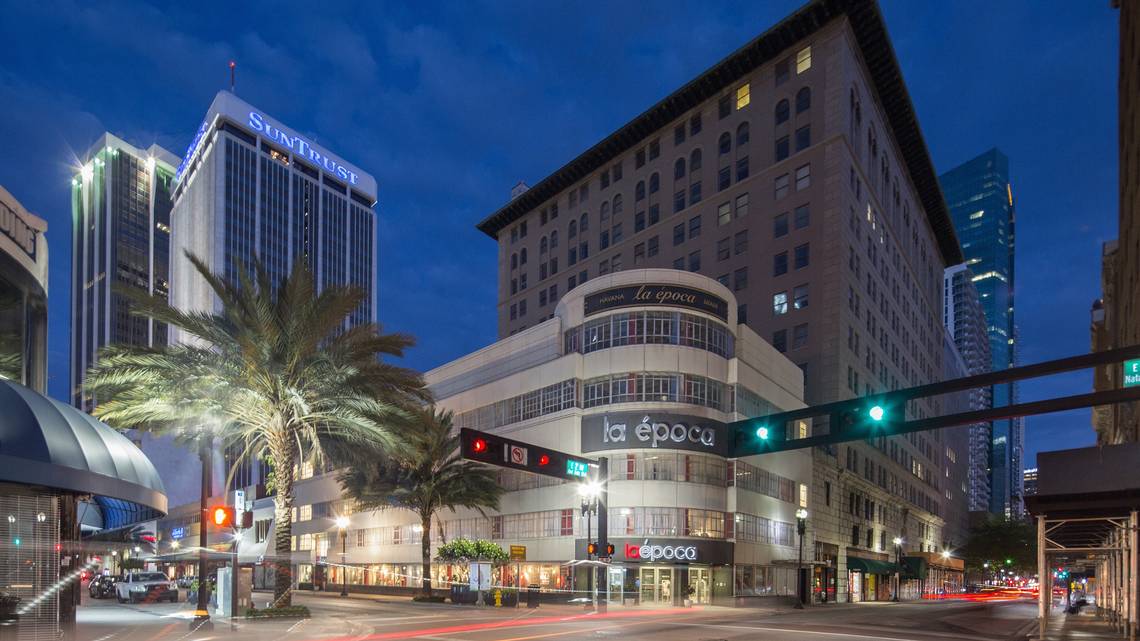 The iconic Walgreens building at 200 E. Flagler St. in downtown Miami has a new owner with big plans for the future of the historic property.
The Miami-based construction and development firm Stambul paid $19.75 million for the 50,000 square-foot building. The sale closed on Friday.
The building was put up for sale in June 2016 by the Alonso family, who owned the department store La Epoca that had operated out of the location since 2005. The store closed in November 2016.
The five-story building, which was entered into the National Register of Historic Places in 1988 and cannot be torn down, will be turned into a multi-level collection of high-end restaurants, retail and entertainment venues.
"We are meticulously and thoughtfully curating and overseeing vendors, spaces and activities that will integrate to provide an organic experience," Stambul's Principal Daniel Peña Giraldi said in a press release. "Stambul wants to be a key player in the rebirth of Downtown Miami and its evolution into a culinary and entertainment destination for locals and tourists.
Stambul previously led the restoration of the Miami National Bank into the Langford Hotel and is currently renovating the Old United States Post Office and Courthouse building into a food hall that will include a downtown location for the Doral-based Biscayne Bay Brewing Company.
When it was built in 1936, the Walgreens Drug Store in Miami was only the third Walgreens location in the U.S. and the largest in the entire chain. Among its original features were an 88-foot soda fountain, a candy kitchen, an ice cream plant and restaurant spaces large enough to seat more than 200 patrons.
The Walgreens building is one of Miami's oldest examples of Streamline Moderne, an architectural style from the late Art Deco period known for rounded corners, spare exteriors and horizontal orientations.
The sale of the building comes during a spike in interest in the downtown Flagler Street area. The Downtown Development Authority is in the middle of an ongoing $13 million renovation of Flagler Street. Developer Moishe Mana has spent more than $350 million acquiring properties along Flagler Street and Wynwood.
Downtown Miami's full-time population is at an all-time high of 92,235 — a 65 percent jump from 2000-2010 and another 38 percent increase from 2010-2018. The number is projected to swell another 19 percent by 2021, with the total population in Greater Downtown Miami expected to reach 109,617.
"We've always understood Downtown Miami's potential and we're excited to be deeply rooted in its rebirth," Stambul's Principal Luis E. Rojas said in a press release. "We're quickly working on giving the historic Walgreens building a new life and elevating Flagler Street to its prime days."
The restoration work on the Walgreens building is scheduled to begin in late 2018.