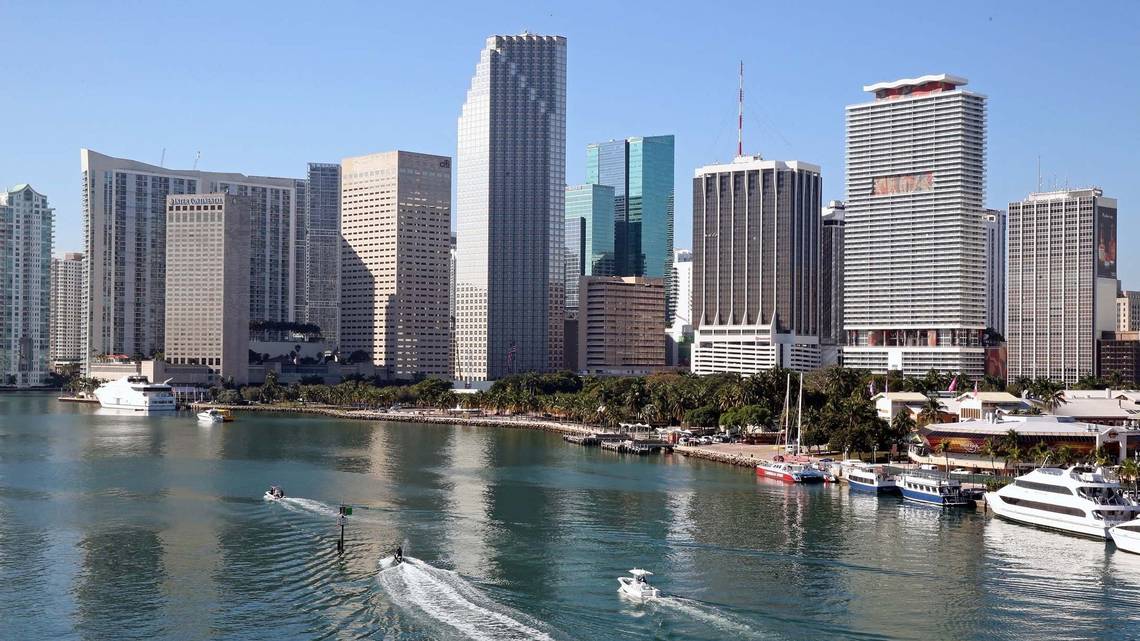 When a company called the Flower of Scotland paid $1.13 million — in cash — for a three-bedroom condo in Sunny Isles Beach last year, it had to do something unusual: tell the federal government who its real owner was.
In years past, the Delaware-based shell company could have put down the money and walked away with a new condo — and a boat slip near Dumfoundling Bay — no questions asked. But that secrecy was stripped away in early 2016 when the U.S. Treasury Department imposed a temporary transparency rule on Miami-Dade County and Manhattan, two of the nation's most attractive real estate markets to dark money.
The simple disclosure requirement offered the opportunity for an enticing experiment: If regulators asked anonymous cash buyers like the Flower of Scotland to reveal their true owners, what would happen?
Now, a new working paper from economists at the Federal Reserve Bank of New York and the University of Miami offers one answer: The anonymous cash buyers stopped buying homes — at least using the method targeted by regulators.
In Miami-Dade, the first-of-its-kind study found a 95 percent drop in how much cash shell companies and other corporate entities spent on homes. The decline began immediately after the rule took effect in March 2016.
Regulators "shined the spotlight and at the very same time these buyers have scurried away back into the shadows," said Sean Hundtofte, one of the co-authors of the study, which analyzed millions of home sales nationwide collected from local property appraisers and other sources by the online real estate firm Zillow.
The staggering fall in transactions may give ammunition to federal officials who argue that secretive real estate deals allow criminals to launder stolen money into the condos and mansions sprouting up around South Florida. Those officials want to see the rules made permanent and expanded nationwide. But the study also reveals the difficulties regulators face in catching those determined to worm their money into the U.S. financial system: Money launderers are skilled at evading the latest traps set by authorities.
Despite the flight of shell companies, the bottom didn't drop out of Miami-Dade's residential real estate market: Overall sales didn't budge much, although prices rose less rapidly than would otherwise be expected, the study found. South Florida Realtors say they haven't noticed a change in buyer behavior.
"If anything, I've seen an increase in cash purchases," said Jay Parker, CEO of Douglas Elliman Real Estate Florida.
That suggests buyers who previously used shell companies to remain anonymous may have found new ways to buy properties, an effect known as "substitution," the study's authors believe.
"We're not saying the money is going out of the market," said Ville Rantala, the study's other co-author. "We're saying the buyers might be finding other ways."
In this case, the U.S. Financial Crimes Enforcement Network, a Treasury agency known as FinCEN, targeted shell companies using cash to buy homes because those transactions allow buyers to evade so-called "know-your-customer" rules employed by banks. That means the buyers' identities — and possible connections to criminal activity — could remain secret.
The shock to sales caused by the new rule was most pronounced in Miami-Dade, where luxury real estate draws foreign money like a magnet — leading to unaffordable home prices for many locals.
Before the rule, corporate entities bought an average of $111 million worth of homes with cash in Miami-Dade per week, or 29 percent of all residential transactions, according to the study. But almost immediately after the reporting requirement began, that number plummeted to $5 million per week, or 2 percent of all transactions.
It has stayed flat since.
The change in behavior may reflect buyers seeking to avoid having to reveal their names to the federal government, according to the authors.
"You take away anonymity and you see the effect on the market," Rantala said.
Alternate methods of purchase could include using straw buyers — stand-ins who nominally control the property on behalf of the real owner — or employing other corporate vehicles like trusts or figuring out how to evade the reporting requirements by, for instance, taking out a small mortgage.
Notably, the edict didn't just affect the high-priced markets where it was enforced: After it went into effect, shell companies also stopped buying homes with cash in many other places around the nation, even though those areas were not targeted, the study found. Around the nation, the researchers say they discovered a 70 percent drop.
That suggests the well-publicized Treasury order acted as a general warning to the darkest corners of the real estate market, the authors believe. It also means buyers realize the way the wind is blowing for the real estate market: more and broader regulations.
As FinCEN has expanded the rule to other markets in Florida, New York, Texas, California and Hawaii, it is trying to stay ahead of buyers who may structure their transactions to avoid detection.
When the agency issued a new rule in May, it quietly dropped the price threshold that triggers the reporting requirement, according to documents reviewed by the Miami Herald. Previously, companies had to report their owners when they paid cash for homes priced at $1 million or above in Miami-Dade, Broward and Palm Beach counties. Now, the limit is $300,000, vastly increasing the universe of reportable transactions. The new order also extends to trusts, which had previously been excluded. All of this was kept confidential.
FinCEN had previously announced rule changes with news releases and media conference calls.
But sources familiar with the agency's thinking say its strategy has changed. Officials no longer want to publicize what kind of transactions fall under the reporting requirement. They worry that making too much information public will give money launderers a road map to stay off the radar of regulators.
The drop in transactions, meanwhile, had a small but noticeable effect on prices, the study's authors said. They found that high-end home prices in the markets affected by the Treasury rule rose by 4 percent less than expected when compared with counties not affected by the rule.
Under the microscope
The study marks the first comprehensive attempt to measure the effect of the FinCEN rule.
It examined millions of home sales between 2010 and 2017 from 17 states, including Florida, that record information on both mortgages and corporate involvement. Rantala is an assistant professor of finance at the University of Miami. Hundtofte is an economist at the Federal Reserve Bank of New York. Their study does not necessarily represent the views of their respective institutions.
The authors described their findings as "initial" and said they plan to submit their paper for publication to academic journals following its presentation at various conferences.
After going into effect in Miami-Dade and Manhattan, the FinCEN disclosure requirement was later expanded to other high-priced U.S. housing markets including Broward and Palm Beach counties, all of New York City and the San Francisco, Los Angeles, San Diego, San Antonio and Honolulu areas. The rule does not apply to transactions that involve a mortgage.
Under the rule, corporate entities including shell companies — so-called because they don't perform actual business beyond holding properties or bank accounts — must report their true owners to title insurance companies involved in the sale. The insurers then pass the information on to the feds. The owner's identity is otherwise supposed to stay secret.
There are legitimate reasons to use shell companies to buy real estate, including privacy protection, limiting legal liability and obtaining tax benefits.
The Flower of Scotland went through with the deal, but it was an outlier.
Corporate secrecy is easy to maintain: Herald reporters dug through property, tax and court records but could not identify the company's owner.
Only Switzerland's corporate secrecy laws are more opaque than those of the United States, according to the Financial Secrecy Index, a project of the Tax Justice Network advocacy group.
That's a problem for law enforcement officers, too: They often can't figure out who really owns shell companies. As a result, a growing bipartisan consensus has emerged that more corporate transparency is needed. Even business-friendly politicians agree.
Last week, Treasury Secretary Steven Mnuchin said he supports efforts in Congress to make the identities of shell company owners available to law enforcement. One such bill, the Corporate Transparency Act, is co-sponsored by Sen. Marco Rubio, R-Fla..
Laundromat
The real estate study gives more weight to a widespread belief among federal regulators, law enforcement officials and anti-corruption activists: Anonymous real estate transactions using cash — where the buyer doesn't have to disclose his or her real identity or undergo bank due diligence to obtain a mortgage — are a major loophole for those looking to launder dirty money into the U.S. financial system.
Corrupt public officials, drug lords and white-collar criminals have all been caught using cash to buy real estate in South Florida and other luxury markets. The publication of the Panama Papers, a major leak of offshore shell company files, also highlighted secrecy in real estate. And an early data release from Treasury showed that about a third of the buyers who reported their identities to the government had also been the subject of suspicious activity reports by U.S. banks.
The results of the study, which was done without financial or other support from Treasury and law enforcement agencies, "really lay out a very clear-cut case for regulating the real estate industry," said John Tobon, deputy special agent in charge for Homeland Security Investigations in South Florida.
If home buyers had nothing to hide, Tobon said, they wouldn't object to revealing their identities to regulators. Only government officials have access to the information, not the public.
The rule "didn't prohibit anything or restrict anything," Tobon said. "All it said was you have to reveal who your beneficial owner is."
But Jonathan Miller, an appraiser and real estate analyst based in New York, said that even people who did nothing wrong might not want their information to show up in a federal database filled with potential criminals.
"It makes sense that as this structure is being tagged as a possible way to hide illegal activity, [wealthy buyers] would find other vehicles to protect their privacy," Miller said.
In other words, the drastic drop in transactions revealed by the study doesn't necessarily reflect criminals scrambling to hide their names from the feds, he explained.
Tougher watchdog
The FinCEN requirement is a temporary regulation called a "geographic targeting order."
FinCEN's GTOs last six months and are not often renewed as they are designed to gather information for a limited period. The real estate GTO, however, has not only been renewed four times since it began but has also been expanded to other markets where secretive home deals are common.
A spokesman for FinCEN did not respond to a request to interview the agency's director, Kenneth Blanco.
Tobon said he and other law enforcement officials believe the rules should be made permanent and expanded nationwide.
That's sure to lead to opposition from the lobbying arm of the powerful real estate industry. Some developers and Realtors say they don't believe they should play a role in backgrounding their clients. More than 15 years ago, the industry successfully fought to win an exemption from Patriot Act rules that would have treated real estate as a regulated financial industry like banks or precious metal dealers.
"Where people get their money is none of my business," Tony Elias, a Realtor who specializes in selling condos in Brickell and Miami's urban core, told the Herald in a recent interview. "I don't see how Realtors can enforce where the cash is coming from. I'm not going on an expedition for that."
The Miami Association of Realtors disagrees.
"We support any initiatives to prevent illicit activity in our community and real estate market and encourage our members ... to be aware of how real estate transactions may be used in illegal financing schemes," said Lynda Fernandez, a spokeswoman for the association.
Still, industry figures and local politicians worry scrutiny could scare away business — and reduce the property taxes that municipal governments rely on to fund public services.
Days after the initial FinCEN disclosure rule took effect in 2016, the Miami-Dade County Commission passed a symbolic resolution criticizing the feds for singling out Miami for heightened scrutiny.
Such devotion to the luxury real estate industry as a financial driver has led to economic inequality, researchers say.
The high cost of living and a low-wage service economy have conspired to turn Miami into the second-most unequal metro area in the United States, after New York City, according to research from Florida International University.
"We've had artificial drivers that have pushed up the prices of the overall housing market, to the point where many people are going to look to leave the area for a better standard of living," said Jack McCabe, a Florida real estate analyst and consultant. "The expenses eat up too much of their income."