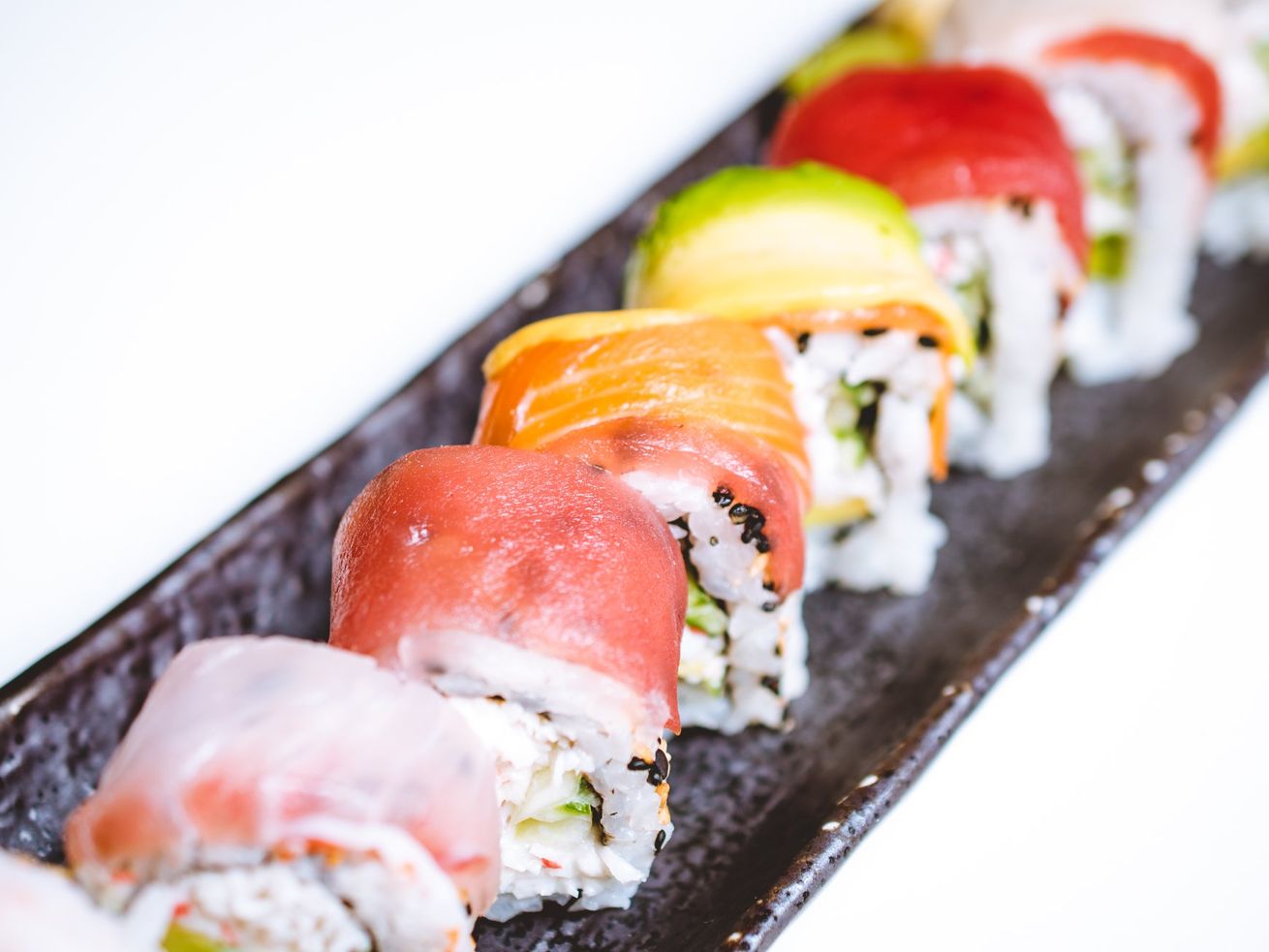 Tracking the latest restaurant and bar openings in South Florida
June 26
BRICKELL — Sushi hotspot Katusya has opened the doors to its second location in Miami, and 14th in the world overall at the SLS LUX Brickell Hotel & Residences (8 SE Street). Open daily for breakfast, lunch and dinner, it features the same classic dishes as its 13 other counterparts like A5 fried rice, tea smoked duck and Kani crab avocado along with cocktails from the restaurant's S Bar.
SOUTH BEACH — A soul food restaurant has set up shop on South Beach. Called Pink Teacup Villa (1524 Washington Avenue), it features cuisine by chef Lawrence Page from docu-series "Hustle and Soul." On the menu are dishes like five-cheese macaroni and cheese, buttermilk fried chicken with a sweet potato waffle, fried pork chops, and pineapple cornbread. No word yet if cameras will be rolling at this location.
SOUTH BEACH — Spanish tapas South of Fifth are what's on the menu at the newly opened Vino Tinto (423 Washington Avenue). Helmed by chef Claudia J. Almanza, it offers classic Spanish dishes such as papas bravas, tortilla, parilla, churros, and as the name alludes — plenty of wine.
BRICKELL — Housed in downtown Miami's 83-story Panorama Tower — aka Florida's tallest building — is the newly opened Cuban eatery, Caña (1102 Brickell Bay Drive). Dubbing it Cuban comfort food with a "twist," the menu is filled with items like puffed chicharrón, crispy octopus, Cuban churrasco and more.
SOUTH BEACH — Shore Club has new restaurant to call its own, Diez y Seis (1901 Collins Avenue). Overlooking the hotel's famous pool, it serves a variety of high-end Mexican dishes from Jose Icardi for breakfast, lunch and dinner, like a short rib benedict, hangover burrito, cactus salad, and cocktails served in tequila carts tableside.
May 30
SOUTH MIAMI — Miami's first outpost of cult-loved chain Halal Guys (5966 S Dixie Highway) has officially opened up its doors in the Magic City. Expect much of the same menu that can be found in its hundreds of locations around the country like gyro platters, chicken wraps, falafel, along with that famously hot, hot sauce.
DOWNTOWN MIAMI — Bloom Skybar (121 SE 1st Street) has taken over the space once occupied by Pawnbroker on the roof of the Langford Hotel. Expect the same Downtown Miami views as its predecessor once boasted, plus classic cocktails like Old Fashioned's, Margaritas and more along with bites like sliders, wings, and shrimp cocktail.
WYNWOOD — French barbecue hybrid Sixty10 (6010 NE Second Avenue) has set up shop in Wynwood. Specializing in roast chicken in half and whole varieties, and dark or white meat, it offers outdoor seating, BYOB (for now) and salads, soups, and a sides like brussel sprouts and coleslaw.
BRICKELL — Now hungry diners don't have to venture to Doral to get their Pepito's fix. The popular eatery has set up a new location, Pepito's Plaza Brickell (901 Brickell Plaza, Suite 101) with a massive menu ranging from burgers to arepas with seven different sauces to serve them with.
WYNWOOD — Pi by Half Moon Empanadas (56 NW 29th Street) is the latest food truck to come to Wynwood Yard. Made with empanada shell "halos" filled with combinations of meats, seafood and veggies like a Cajun shrimp risotto Pi made with Creole mustard and a a twist on ropa vieja made with duck, yellow rice imperial, sofrito aioli and plantain crunch.
May 16
BRICKELL — Jack's Miami ( 901 S Miami Avenue) has expanded its South Florida footprint, debuting a new location in Brickell in Mary Brickell Village. This location is considered more on an "express" location with a smaller menu catered more for delivery and takeout, with a few seats available for outdoor dining.
AVENTURA — Tap42 (19565 Biscayne Blvd) has debuted its latest location in South Florida, this time inside Aventura Mall. The new location features 250 seats and a 1,200 square-foot patio overlooking the Aventura Slide Tower, a 93-foot-tall glass and steel slide designed by Carsten Höller. Expect the same menu as other locations featuring high-end pub fare plus plenty of drink offerings.
SOUTH BEACH — The team behind spots like Toscana Divino and Ironside Pizza have debuted their latest concept: Caffe Italia (1451 Ocean Drive). The space, which is inspired by Italian coffee shops and bars, is an all-day space offering grab-and-go baked good, salads, and paninis during the day, and at night time offers Italian apertivo options like wines, beers, charcuterie and pasta.
BUENA VISTA — Created by the founders of Buena Vista Deli, Café Crème (5010 NE 2nd Avenue) has officially opened at the newly debuted Upper Buena Vista complex will offer all the French pastries to baked breads that BVD was known for, plus soups, sandwiches, and heartier main dishes during the evening hours like duck confit, curry chicken and steak frites.
FT LAUDERDALE — The Balcony (1309 E Las Olas Blvd), an upscale two-story restaurant with a rooftop and balcony on Fort Lauderdale's Las Olas Boulevard, is now open. The eatery features New Orleans-style cuisine like alligator and shrimp jambalaya, fried green tomatoes, baked oysters, along with cocktails and live music. Plus crawfish boils every Saturday and a
May 2
COCONUT GROVE — From the team behind Coconut Grove favorites Strada in the Grove and Farinelli 1937 comes their latest restaurant: La Rue Bistronomie (3145 Commodore Plaza). Housed right by its sister restaurant, this French-inspired bistro serves up classic Parisian fare like quiche lorraine, endive salad, French onion soup, and roasted asparagus, all in a quaint, open-air setting.
WEST MIAMI — Just in time for crawfish season comes New Orleans themed eatery, Cajun Boil (10162 W Flagler Street), dedicated to all things, well, cajun. On the menu guests can expect massive, build-your-own boils filled with everything from crawdads to frog legs, plus gumbo, oysters, and a bevy of fried bites.
DELRAY BEACH — The man behind popular watering hole Better Days has taken his talents up north for his latest venture, The OG (166 SE 2nd Ave) — short for Oceanside Grocers. Positioned as a "secret" cocktail bar, it features the same eclectic feel as Better Days (and the same gratis popcorn) with drinks like the Hillbilly martini, sangria served in an ICEE cup, and Bloody Marys served in in a Campbell Tomato Soup can, all using citrus and herbs grown in the garden out back.
PALMETTO BAY — One of South Florida's favorite sausage slingers, Babe Froman Fine Sausage (9216 SW 156 Street), has set up a permanent shop after years of making appearances at local farmer's markets. On the menu meat lovers can find everything from duck bacon bahn mi's to Montreal smoked meat sandwiches, plus all the typical findings of a butcher shop like sausages, steaks, bacon slabs, and cheeses.
PINECREST — Nitrogen ice cream and cookie restaurant Phenomenom (11401 S. Dixie Highway) has debuted its fourth location in Pinecrest. Hungry diners can pick up mix-and-match nitrogen ice cream creations plus cookies ranging in flavors from oreo to sugar cookies, ice cream cookie sundaes, and ice cream cookie sandwiches.
CORAL GABLES — B Bistro has set up its second outpost inside the ritzy The Collection ( 200 Bird Road) auto dealership. Hungry diners and car buyers alike can purchase pastries and desserts, breakfast and lunch items like paninis and toasts, plus grain-based salads, open-faced sandwiches, homemade soups and more.
March 23
AVENTURA — Shake Shack has opened up its doors in Aventura Mall this morning, marking the third Miami-area shack, with existing locations in Coral Gables and Miami Beach. The new space, housed inside the mall's new food hall feature communal seating including swings and shared bar tables, as well as an outdoor terrace. It'll feature the fan favorite menu items that the restaurant is known for plus local brews from Wynwood Brewing Company, SaltWater Brewery, Due South Brewing Company and Funk Buddha Brewery.
CORAL GABLES — Brooklyn import Cafe Grumpy has set up its first location outside of the Big Apple in Coral Gables (2516 Ponce de Leon Blvd). The coffee shop serves up a variety of different coffee from the top regions around the world and boasts a variety of classes to learn more about coffee.
SUNSET HARBOUR — There's now a new spot to get a gelato fix. Bio Bio Gelato (1201 20th Street, Unit 8), the Italian newcomer, has opened up its first location in the United States in the health leaning neighborhood. The menu boasts a wide selection of "organic" gelato flavors like ricotta and caramelized fig, ginger and lemon, pistachio, along with the regular chocolate and vanilla suspects.
NORTH MIAMI — Everyone's favorite croqueta slingers, Sergio's Cuban Cafe, is debuting its latest restaurant in North Miami (1821 NE 123 Street) this weekend with quite the fete featuring complimentary empanadas and cafecito on Saturday, March 24th from noon to 3 p.m. plus the first 100 people get a free bowl.
CORAL GABLES — Chicago-based Doc B's Fresh Kitchen (301 Miracle Mile) has set up shop in Coral Gables, marking its sixth U.S. location. The eatery serves dishes like "create your own steak" allowing guests to choose the type of cut, seasoning, sauce or topping they'd like, plus options like the spicy "angry" meatball, grilled shrimp, wood-fired pizzas, plus a daily happy hour.
January 30
DESIGN DISTRICT — The mastermind behind the desserts at places like Alter and Brava, Soraya Kilgore, has debuted her first standalone ice cream and sweets shop MadLab Creamery in the Miami Design District (140 NE 39th Street). The store serves up unique ice cream creations topped with items like cotton candy and edible glitter, along with chocolate bark by the pound, Japanese cheesecake, cookies and cupcakes.
SOUTH MIAMI — Good-for-you, fast casual eatery American Harvest has debuted its second location in South Miami (5958 South Dixie Highway). This 2,900 square-foot locale serves as the restaurant's flagship outpost and serve dishes found on the original menu like the steak tacos and rotisserie chicken skillets along with new items like acai bowls, a variety of toasts and the ever important meal: weekend brunch.
SOUTH BEACH — Call Me Gaby is the newest addition the South of Fifth neighborhood (22 Washington Avenue). It serves a variety of pizzas like the Carla, made with Mortadella, basil pesto, and pistachio crumble; and the Gina, made with "Fior di Latte," baked potatoes, Chiodini mushrooms, stracciatella; along with other more classic pies. And although the pizza is the star of the show, there also an assortment of antipasti, salads, and pastas rounding out the menu.
SUNSET HARBOUR — The team behind Lincoln Road stunner Juvia and Sushi Garage have debuted their lunchtime poke concept, Sunny Poke (1784 West Avenue). Housed inside Sushi Garage, it offers create-your-own poke bowls with more than 15 different toppings and a variety of proteins, too.