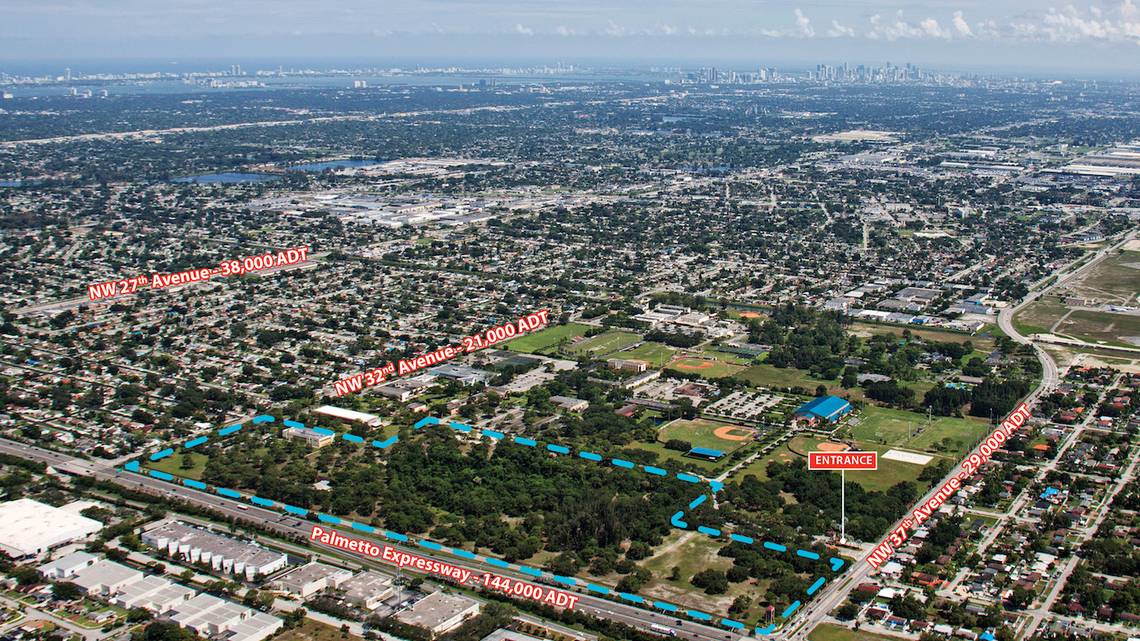 St. Thomas University is shedding some of its real estate fat.
The school, which reported an enrollment of 2,768 undergraduate, graduate and law students in October 2016, is selling a 28-acre parcel of land adjacent to its campus at 16401 NW 37th Ave. in Miami Gardens. The school's current lot covers 140 acres.
The vacant land, which is directly north of the school, stretches from Northwest 37th Avenue east to Northwest 32nd Avenue, with direct frontage to the south side of the Palmetto Expressway.
David A. Armstrong, president of St. Thomas University, said the land is being sold because the school has no use for it.
"The sale of this excess, underutilized property will have no impact on our university's long-term plans," Armstrong said in a release. "We are excited about the complementary opportunities the land's potential uses will present for the school and the community."
The lot is zoned for mixed-use, which allows for residential, commercial and retail development. Avison Young's Florida Capital Markets Group will market and sell the property via a strategic call for offers, meaning no asking price has been set.
Proceeds from the sale of the land will be funneled into the school's endowment and strategic initiatives.
According to the real estate website Zillow, home values in Miami Gardens shot up 16.3 percent year-over-year in July 2018 and are predicted to climb another 6.4 percent over the next 12 months. The median price of homes currently listed for sale is $234,900 and the median list price per square foot is $165, which is lower than the average of $217 for the Miami-Fort Lauderdale metro area.
St. Thomas University was founded in 1961 as Biscayne College by the Augustinian Friars in conjunction with a group of Augustinians expelled from Cuba by Castro's government.
The school attained university status in 1984, and its name was changed in honor of its first president, the former vice-rector at the Universidad de Santo Tomas de Villanueva in Cuba. The Archdiocese of Miami began sponsoring the school in 1988. Its alumni include former Miami-Dade Mayor Alex Penelas and Miami Heat vice president of operations Andy Elisburg.