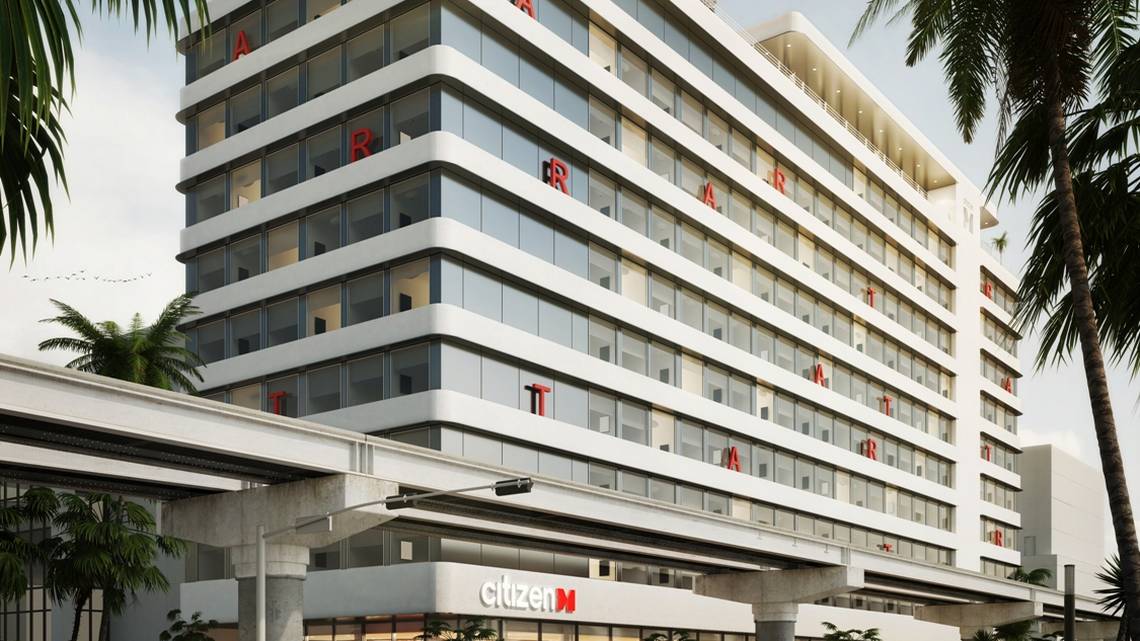 A new tenant has signed on to Miami Worldcenter, the ambitious 27-acre mixed-use project currently under construction in the downtown area.
The Netherlands-based citizenM will open a 348-room, 12-story hotel along NE Second Avenue between Seventh and Eighth Streets. The hotel will be adjacent to the Worldcenter's pedestrian-only, open-air shopping promenade. Gensler Architects will oversee the design.
The company, which describes its hotels as "affordable luxury," announced the 128,000-square-foot building will include nearly 2,000 square feet of co-working/creative meeting spaces. citizenM currently operates hotels in Paris, Copenhagen, London, Amsterdam, Rotterdam and Glasgow. The company is currently developing hotels in other U.S. markets such as Boston, Los Angeles, San Francisco and Seattle.
This will be the third Miami-Dade hotel citizenM has proposed over the last 12 months. Earlier this summer, The Next Miami reported citizenM will build a 20-story, 252-room hotel at the Perricone's Marketplace & Cafe site at 15 SE 10th Street in Brickell. The company has also signed on to operate a 168-room hotel that will be part of a larger five-story development by Crescent Heights at 1212 Lincoln Road, on the west side of Alton Road across from Regal South Beach Cinema.
The citizenM brand focuses on small hotel rooms decked out with high-end trappings such as luxury mattresses, king-size beds and free bottled water and on-demand movies in every room. The company does away with traditional hotel services such as room service and concierge. Current rates at the citizenM Times Square and citizenM Bowery hotels in New York City range from $180-$350 per night, depending on the date.
A groundbreaking date for the Worldcenter location has not been set.
The Miami Worldcenter project, which is estimated to total more than $2.7 billion in developments, includes the 60-story Paramount Miami Worldcenter condo tower, two apartment rental buildings, a 45-story Hines office tower, and a convention center. The first phase of the massive project is due for completion in late 2018.
"citizenM's rollout strategy has always centered around following our guests — a group of modern travelers who frequent true live/work/play destinations within the world's gateway cities," said Ernest Lee, managing director of development and Investment for citizenM, in a release . "We are very excited to join the Miami Worldcenter development, a transformative project that will offer a high quality mix of workplace, residential, dining, nightlife, shopping, conference, and transit outlets."
"We set out to create an economic driver and international destination," said Nitin Motwani, managing principal for Miami Worldcenter associates, in a release. "Welcoming citizenM to Miami Worldcenter expands our reach in being able to offer an affordable yet luxuriously-designed hotel within our 'city within a city,' and is in line with our grand vision, the likes of which Miami has never seen before."