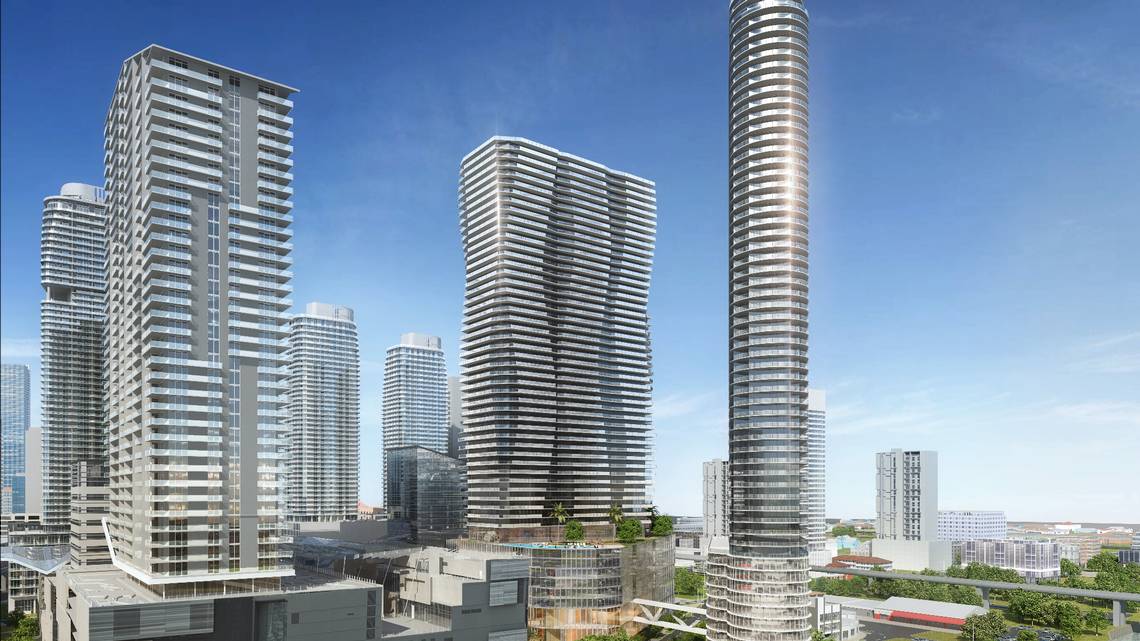 Brickell City Centre, the sprawling shopping, dining and residential complex that successfully brought Hong Kong-style multi-level commercial development to Miami's financial district, now aims to expand its footprint to a fourth block.


Swire Properties has filed plans with the city of Miami for an extension of its existing special area plan that would comprise two condo towers, one of them with a three-level retail base. Both towers would be connected to each other and the existing three-block complex by new skybridges.
The application represents a sign of confidence in the dense, interlinked and pedestrian-friendly model of urban mixed-use development that Swire brought to Miami, said Kieran Bowers, president of the Hong Kong-based firm's U.S. operations.


"It's really doubling down on your existing effort," Bowers said. "It goes back to what the model is. The more critical mass you add, the more successful all the different elements are. We are really happy with the location. Commercially it's been a success, so we're looking to add more to it."
The towers would occupy the triangular block where the legendary Tobacco Road bar once stood as well as an adjacent wedge of land formerly home to Associated Photo. The block, across South Miami Avenue and Seventh Street from the existing complex, would square off Brickell City Centre by filling in its northwest quadrant, Bowers noted.


The expansion plan, like the existing complex, was designed by Arquitectonica, the Miami-based global architecture giant.
Bowers said the mixed-use, 588-unit tower on the triangular block would be built first, in a joint venture by Swire and Tobacco Road Property Holdings, which bought the old bar lot and adjacent buildings from longtime owners in 2012. The block, which includes a corner building housing the popular River Oyster House, would be cleared for the new tower. The Oyster House has a deal to move elsewhere, Bowers said.
The second tower, probably purely "boutique" residential, would be developed later, Bowers said.
If all goes according to plan, Bowers said he expects city approval by the end of this year and a start to construction in the first half of 2020. By then, Swire expects that the inventory of new Brickell and downtown-area condos will be sold, prompting fresh demand for additional units, he said. The two condo towers at Brickell City Centre, Reach and Rise, are 93 percent and 55 percent sold, respectively, Bowers said.
Because Swire, which also built nearby Brickell Key, finances its own projects, it can afford to chart its own course and is under no undue pressure to sell its remaining 180 condos at Brickell City Centre, he said.
"We still believe there is more scope and demand for residential in Brickell," Bowers said.
Miami condo market analysis Peter Zalewski said Swire's posture "makes some sense" since he believes the slowdown now underway may end by the mid-2020s.
But he questioned whether Swire will be able to get the kind of prices for the units that would make the first tower feasible. Condo units in greater downtown Miami are barely fetching $400 per square foot, while Swire has been asking around $700 per square foot at Brickell City Centre, he said. Few Brickell condos sell at that price point unless they're directly on the water or Brickell Avenue itself, he said.
But, he added, "this is obviously long-term thinking. It's a commitment to Miami. I guess that's good."
The nine-acre, $1 billion Brickell City Centre opened in late 2016 along South Miami Avenue south of the Miami River with an unorthodox approach for Miami. It included a vast, fully underground parking garage and a network of skybridges over city streets linking the three blocks of its three-level shopping mall. At street level, the complex was designed to be open and welcoming, with multiple sidewalk entries. Mall common areas also dispensed with air-conditioning for an innovative, flowing canopy that shields visitors from sun and rain and channels prevailing breezes through the complex.


The 500,000 square feet of retail and restaurants are topped by an EAST hotel and two mid-rise office towers — both fully leased, Bowers said — as well as the two high-rise condos.
The complex has been a hit with critics: Architectural Digest last year named it one of the world's nine most beautifully designed malls.
Business, though, was slow to build. Because the shops and a cinema multiplex with dining opened gradually over a period of months — only 10 stores were ready for business at the opening, including anchor Saks Fifth Avenue — foot traffic did as well, Bowers acknowledged. About 20 percent of retail space is still being built out, he added.
But the addition of the Centrale and Casa Tua food halls, as well as a complement of dining options and cafes, have energized the mall.


"They're different but they've both really found a niche with millenials, couples and families," Bowers said. "The communal tables and the quality of the food at different price points seems to resonate well."
The mall's Apple, Lululemon and Zara stores are now enjoying "very strong" performances, Bowers said, while the luxury offerings are "picking up" after lagging at the start.


"There is a lot of positive appreciation for the fact that it brings a very different retail experience not just to Miami, but across the U.S.," Bowers said. "It's not like you feel forced to acquire while there. People just like to be there, and they acquire as they do that."
The center's open-air approach will only partly carry through to the planned new tower's shopping base with an atrium facing north, Bowers said. The small lot requires the 87,000 square feet of retail to be stacked tightly and within the tower podium, which will also contain parking, and that left little choice but to enclose most of it, he said.
"We're trying to keep some of that openness, but the site has certain constraints. We have to adapt a little bit," Bowers said.
Swire has further plans for expansion. It's already announced its intention to build a 1,000-foot mixed-use tower on the site of the old Northern Trust Bank tower a block east on Brickell Avenue, though Bowers said the firm is still trying to settle on a design.
"We've continued to evolve the design for stacked retail and residential. We know there is very little margin of error. The timing is not there yet, either," he said.
Swire also owns a lot just to the north and across Seventh Street from the existing complex, but that will be left vacant for now to serve as staging for construction, Bowers said.