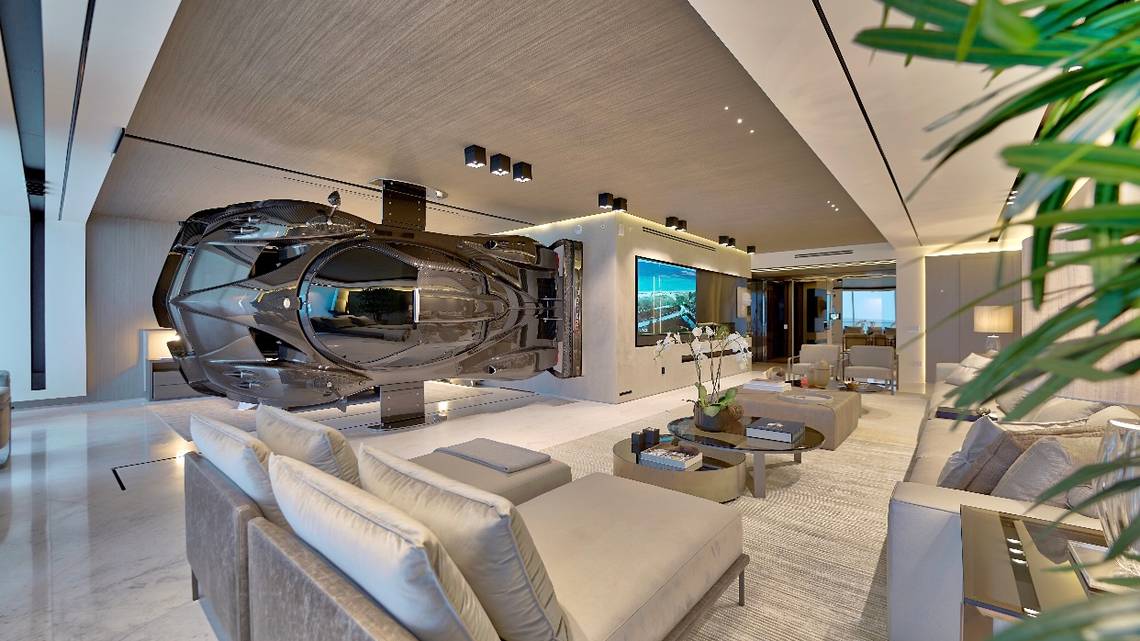 "Money can't buy me love," The Beatles wisely sang.
But in Miami's luxury real estate market, money can buy you pretty much anything — even a condo that uses a rare Italian sports car as a wall.
Artefacto, the high-end furnishings and design firm headquartered in Brazil with three locations in Miami, recently completed the installation of a $1.5 million Pagani Zonda R — one of only 15 ever made — inside an oceanfront four-bedroom, 4,232-square-foot condo at the Fendi Chateau Residences in Surfside.
The sleek automobile, which is made out of carbon fiber and has a top speed of 218 mph, is suspended horizontally on support beams custom-made by Pagani for the installation. The car — sans its V-12 Mercedes-AMG engine — acts as a space divider between the living room and the master bedroom.
The city of Surfside granted the contracting firm Finish My Condo a special permit to hoist the car (which weighs 800 pounds with its engine removed) via a crane through the fifth-floor condo's terrace. Construction on the building had been completed in 2016, so Artefacto had to remove the unit's impact windows and moldings in order to get the automobile inside.
The rest of the condo's decor — including the furniture, lighting and color scheme — was designed to complement the car.
Paulo Bacchi, the CEO of Artefacto USA, said the owner of the unit, who wants to remain anonymous, is a Pagani enthusiast who argued that his rare car — one of only a few privately owned Zondas in the world — is as valid a piece of artwork as any traditional painting or sculpture.
"He said that people go to Art Basel and spend $5 million on paintings to hang on their wall, so why not put his passion on his wall?" Bacchi said. "I told him 'Whatever makes you happy.' "
Artefacto, which was launched 40 years ago and is currently expanding into a global brand, specializes in the luxury market. The firm built the model unit on the 11th floor of Zaha Hadid's One Thousand Museum tower, complete with working air conditioning, while construction on the 62-story skyscraper had only reached the 43rd floor.
Bacchi said he has seen Porsches and Ferraris used as wall decorations in other South Florida condos, and some Miami residents have been known to park their cars inside their homes when a hurricane approaches.
But the Pagani installation was different because the owner wanted a 360-degree view of the car, with the undercarriage facing the bedroom and the roof facing the living room.
Miami, of course, already has a luxury condo tower that allows tenants to drive their fancy wheels right into their living room. But Bacchi said the Porsche Design Tower in Sunny Isles Beach wasn't an option for his client.
"As the name says, it's a Porsche building," Bacchi said. "My client is all about Pagani."