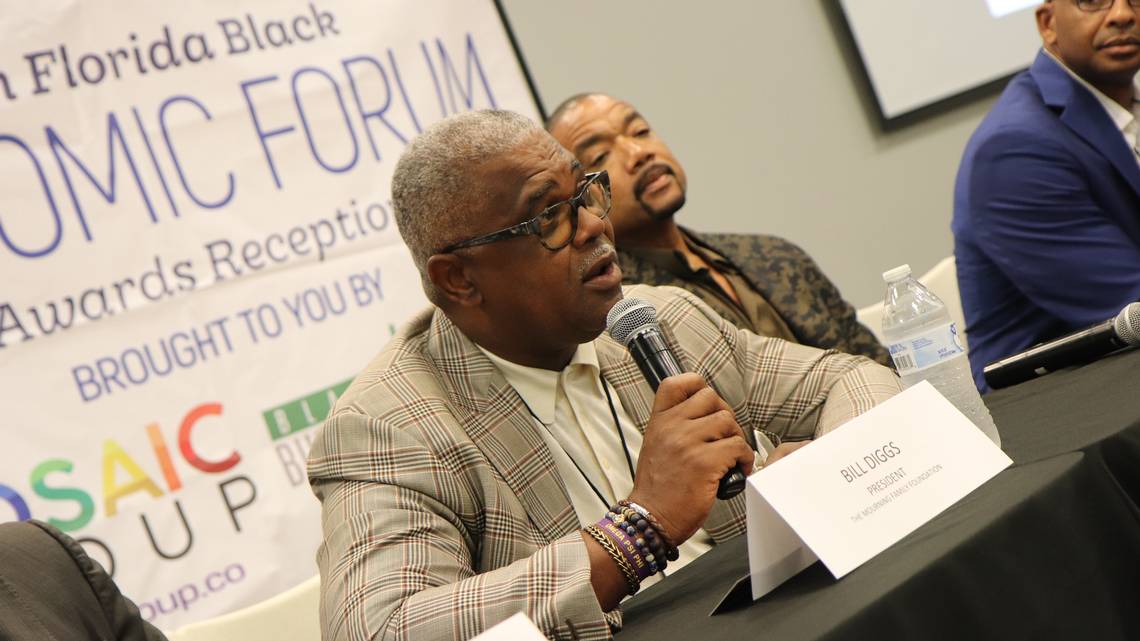 It's hard enough being a developer in South Florida, one of the most cut-throat real estate markets anywhere.
Being a black developer here does not make the job easier.
On Thursday, five black real estate investors invited by the South Florida Black Economic Forum discussed the issues they face.
"We're treated as an anomaly," said Barron Channer, CEO of Woodwater Group. In the real estate community, diversity is often embraced on the surface, he said, "but people don't actually live it."


Fred McLendon of McLendon Investments talked about his disappointment that black investors and construction firms have largely been excluded from many major projects underway in South Florida, even in historically black neighborhoods like Liberty City. As an example, he cited the fact that the general contractor on a plan to redevelop the "Pork and Beans" housing project, which is largely populated by African Americans , was not black.
"That bothered me," he said.
He has been working to save the Society Cab building, once Miami's largest black-owned cab company, which sits next to a bodega.
"Hispanics are moving into Liberty City like nobody's business," McLendon said. "There's no way you're telling me [a black developer] is going to go into Hialeah and be a general contractor there."
Census data show branching paths for Miami-Dade and Broward counties' black populations. In 2010, Miami-Dade's population was about 20 percent black. By 2017, the black population had declined to about 19 percent.
In Broward, the black population has surged more than 21 percent since 2010, and as of 2017 comprised about 31 percent of all residents,
It suggests that many black families in Miami are being priced out and heading north.
While some of the developers said they feel some obligation to create projects that are affordable to black residents, they also said that solving the broader affordable housing crisis in Miami becomes more difficult every day, and may have reached a point of no return.
"The government is going to have to get involved," McLendon told a reporter after the panel. "Tax cuts or incentives to build a handful of affordable units is not going to work anymore."
He suggested rethinking what affordable housing looks like — too many people remain fixated on the notion of the failed 20th century housing projects, he said.
"Let's build something small, but something nice," he said. Financing should be modeled on the VA system, he said, which places more of an emphasis on homeownership — and less like Section 8, which only assists with rental subsidies, he said.
Channer, who grew up in North Miami Beach, said that today, it is almost impossible to build high-density projects in South Florida for the poor or even the middle class.
"That's not something you saw growing up," he said. "You could always find a way to rent it. Now you can't really make money unless you're charging $1,300 a month."
The developers said that on the projects they do work on, even as black investors, they are sometimes accused of being gentrifiers. Miguel Pilgram, head of the Pilgram Group, said that on larger projects, more must be done to get community input. He said there is often a tension between the old guard and new guard within a given neighborhood.
"Sometimes a community doesn't know what it wants," he said.
Channer said some communities have become "better at playing defense than going on offense" when changes are proposed to their neighborhoods.
"We should all be gentrifiers," he said. "A lot of what's there has [our] name on it."
All five developers agreed that the development process in South Florida had become highly politicized, and that too often, elected officials play favorites when choosing among bidders. Without proper political representation, black developers — and by extension black communities — get left behind, they said.
"We have to go to the meetings, call the mayor and say why we deserve this deal," McLendon said. "We have to get on the commissions. Don't just give it to us ... but you've been giving it out for the last 300 years."
Bill Diggs, president of the Alonzo Mourning Family Foundation, cited the Hardemon family as one that had successfully built an "empire" in South Florida by getting involved in the political process.
"Someone has to be daring enough ... you have to pick your horse and play the game," he said.
Channer described the procurement process had become a self-perpetuating cycle, with the same key players being awarded deals. He told a reporter that local governments must now make diversity, including gender diversity, a key part of how contracts are awarded.
"Can you now win without having the best lobbyist?" he asked.