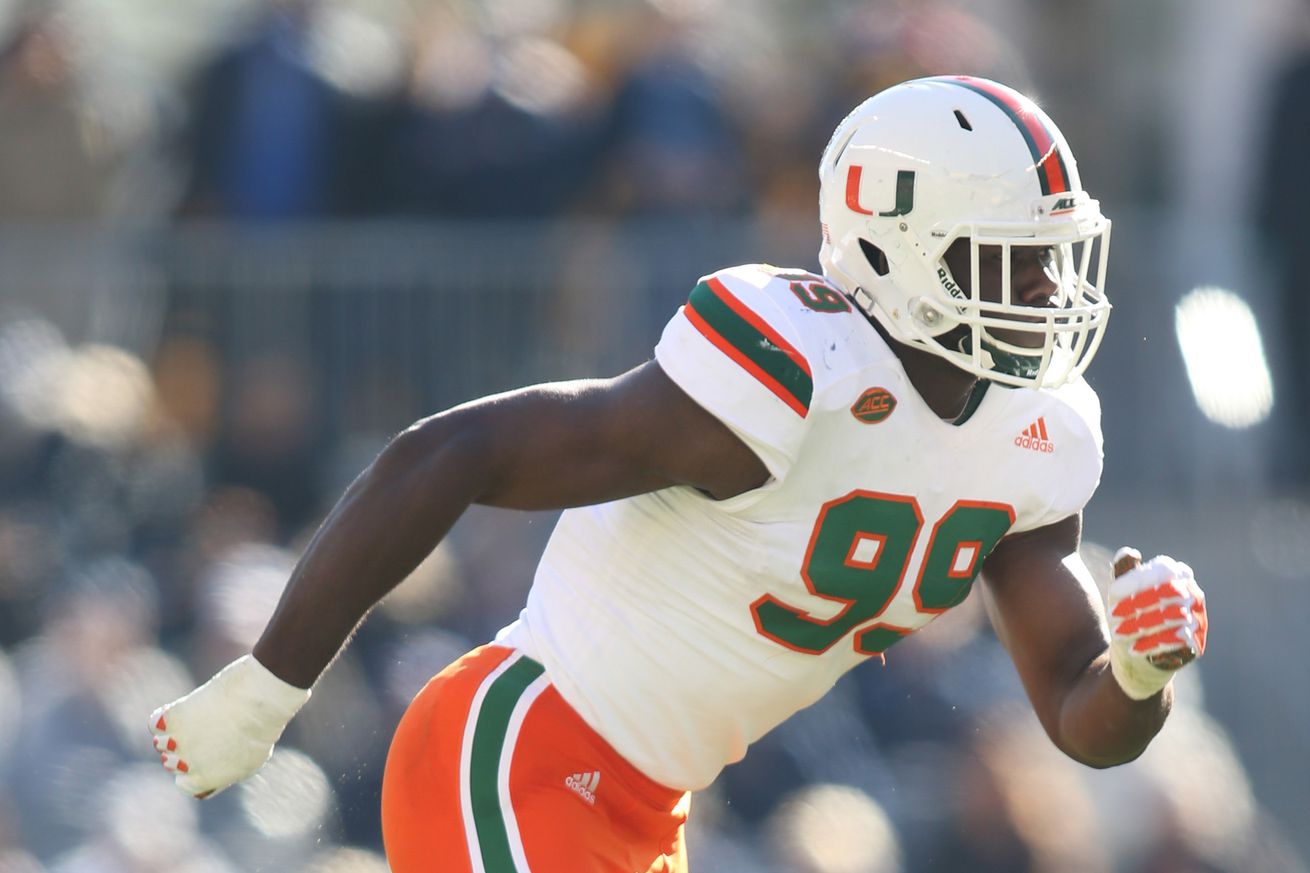 One of the best DEs in CFB
The Miami Hurricanes' defense has several top tier players on it, and junior Defensive End Joe Jackson is arguably its best. A strong 6'5" 258lb defender, Jackson has immense physical talent and proven performance to his record.
A 4-star recruit from Miami (FL) Gulliver Prep in 2016, Jackson flew under the radar to some extent. This was due to his early commitment to Miami as a HS junior, and the fact that he never wavered from that pledge. While the optics of Jackson's recruitment may not have been eye-catching, his play on the field was. He did a little of everything for Gulliver, and showcased the kind of skills that portended great things for his future at Miami.
Once he arrived at Miami, Jackson immediately interjected himself into the rotation at DE as a freshman. Playing in 12 games, Jackson had 32 tackles, 10.5 TFL, 7.5 sacks, 2 forced fumbles, 2 fumble recoveries, and a fumble returned for a TD as a freshman. He earned 2 votes for ACC Defensive Rookie of the Year for that performance, and set the stage for bigger things in 2017.
As a sophomore, Jackson continued his strong play. Now a starter at DE, Jackson totaled 50 tackles, 10.5 TFL, 6.5 sacks,1 forced fumble and 2 PBUs on the year. Jackson was a force to be reckoned with all year long, and would have had even better number (both years, really) if not for the fact that he — and the entire Canes' defense — was held relentlessly all season long with no calls against the opposing offensive lines.
Heading into his junior year, this could be the swan song for Jackson. He's already thought to be a top NFL Draft prospect, and with consistent performance and player progression along the lines of what we've seen from him these past 2 years, he could be headed to the NFL as a very high draft pick.
But, while he's here, we should expect big things from Jackson. He should take another step forward — he has in each of his first 2 years so there's no reason to think otherwise — and be one of the key players up front for the Canes defense that was one of the top units in America in 2017 and looks to up their performance again in 2018. Jackson has the talent to be a 10+ sack player for the Canes, and I look forward to watching him work towards that goal.
In any event, enjoy Joe Jackson at Miami while you can. Because, if things go the way they have for 2 years, you won't have another season after this one to do that.