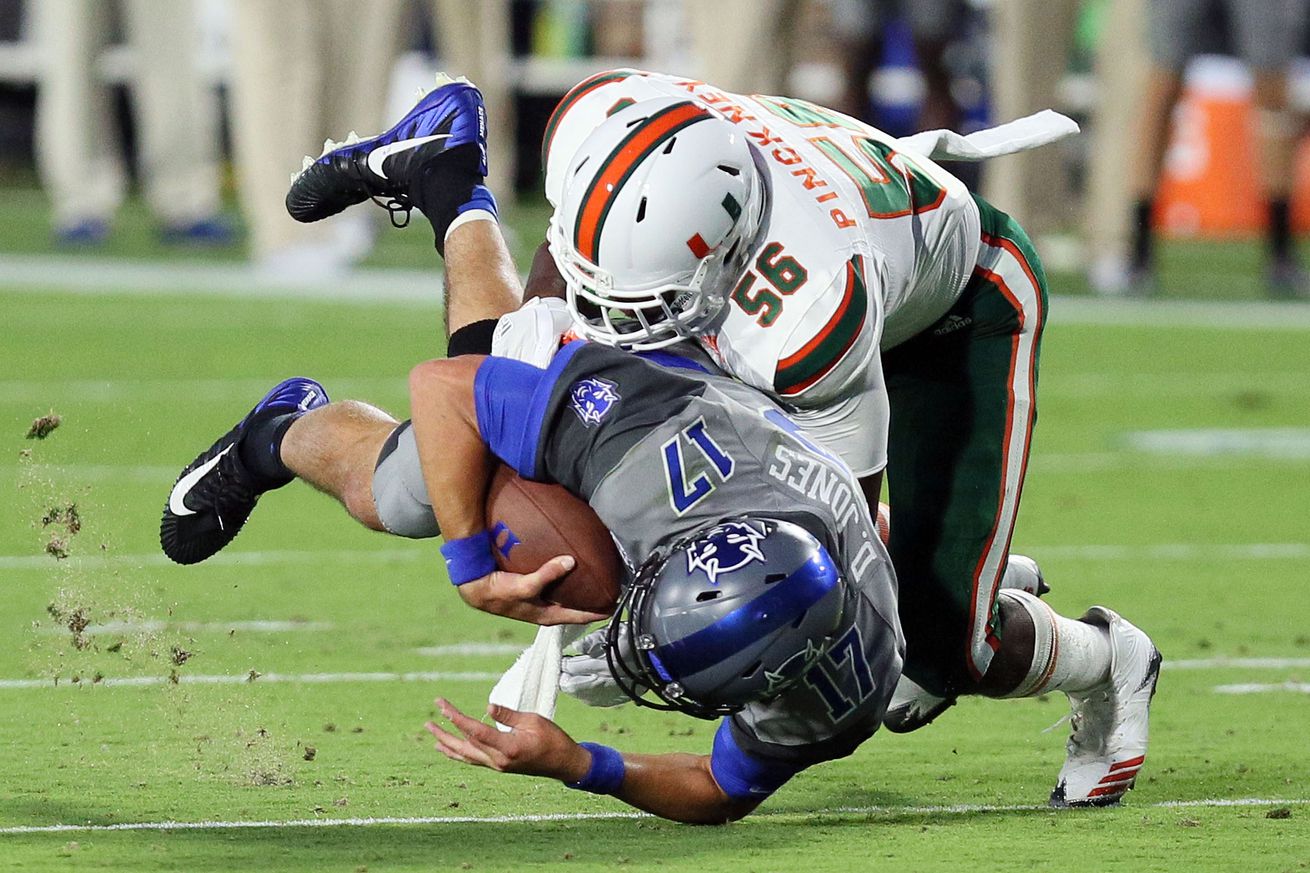 The Junior enters 2018 with the potential to reach an even higher level of success
When Michael Pinckney and his two fellow freshman linebackers stepped onto campus in 2016, no one could have predicted how quickly they would become one of the most cohesive position groups in the nation. And while Shaq Quarterman has gotten a lot of the attention as the classic, thumping middle linebacker, Pinckney has proven himself capable of being a playmaker with his athleticism at the weakside position.
Pinckney arrived in Miami as a 3-star LB but it would become obvious early on that his talent was greater than that. He started all 13 games in his first season and was a Freshman All-American after accumulating 61 total tackles. In addition to that number, Pinckney added 7.5 TFLs, 2.5 sacks and two pass breakups. The young LB flashed his enormous potential against Georgia Tech, garnering four tackles, one for loss and a sack. He also had his only interception of the year, stepping in front of a Justin Thomas pass to seal a win with 2:25 left in the 4th.
The success of his freshman year was followed up with an up and down sophomore year. Inconsistency hurt him last season, where he seemed unstoppable some weeks and got lost in the action in others. His performances against Duke, where he brought down the ballcarrier a career-high 10 times to go along with a highlight reel INT, and Syracuse, where he earned ACC and Walter Camp Defensive Player of the Week, was emblematic of how good Pinckney could be. Other times, his presence was simply not adequately felt on the field.
Pinckney has a chance to boost his NFL Draft stock with a steadier Junior year, whether he leaves Coral Gables in 2019 or 2020. There is no doubting that, in terms of ceiling, he is the best of Miami's three talented starting linebackers. Pinckney's speed is rare for the position, looking more like a safety with the way he flies downhill. He also has great quickness, good power for his size and a solid tackling technique. Pinckney will just need to get a little better at playing at a consistent level on a down-to-down and game-to-game basis. If he does that, it would make this Miami defense that much scarier to opposing offenses.