Art New York

announced that the

Joe Namath Foundation

and the

Hope for Depression Research Foundation

will be co-beneficiaries of the prestigious art fair's VIP Preview on May 3, 2018 from 2-5pm at Pier 94, located at 711 12th Avenue in New York, New York 10019.
"We are honored to have both prestigious foundations as co-beneficiaries of our Art New York fair. It is a privilege for the fair to be able to support great foundations that encourage understanding of the brain and the mind. Over the years I have had the privilege to witness firsthand the passion and energy that both Mrs. Gruss, Mr. Namath and their supporters bring to each of their respective important causes and the arts. Combined they are a very powerful team. Art New York looks forward to helping them tackle two of the most important issues facing every demographic and generation of our society," said Nick Korniloff, Founder/Director, Art New York.
The subject matter of many artists over the past six decades, Pro Football Hall of Fame Quarterback, Super Bowl III MVP Joe Namath will return to the greatest city for the arts. His mission is to create awareness and raise funds for his newly formed namesake foundation. Joe Namath comments, "I am thrilled to be a part of Art New York. Having played with the New York Jets for many years, the city holds a special place in my heart. I am so happy to be here raising awareness of the causes that mean the most to me, through art, which I am very passionate about. I have no doubt that this will be a very special evening."
Philanthropist and avid art collector Audrey Gruss founded the Hope for Depression Research Foundation in 2006 in memory of her mother Hope who suffered from clinical depression. HDRF is now the leading non-profit dedicated solely to advanced depression research with every dollar raised going directly to research.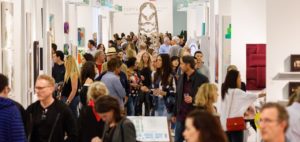 Audrey Gruss comments, "It is an honor for Hope for Depression Research Foundation to be the co-beneficiary of Art New York as so many creative people have fought with depression both publicly and privately. From Vincent van Gogh to Jackson Pollack, it is well documented that artists from different eras and backgrounds have struggled with mental health issues. We are grateful to Nick Korniloff and his team for helping us shine a light on this extremely prevalent cause."