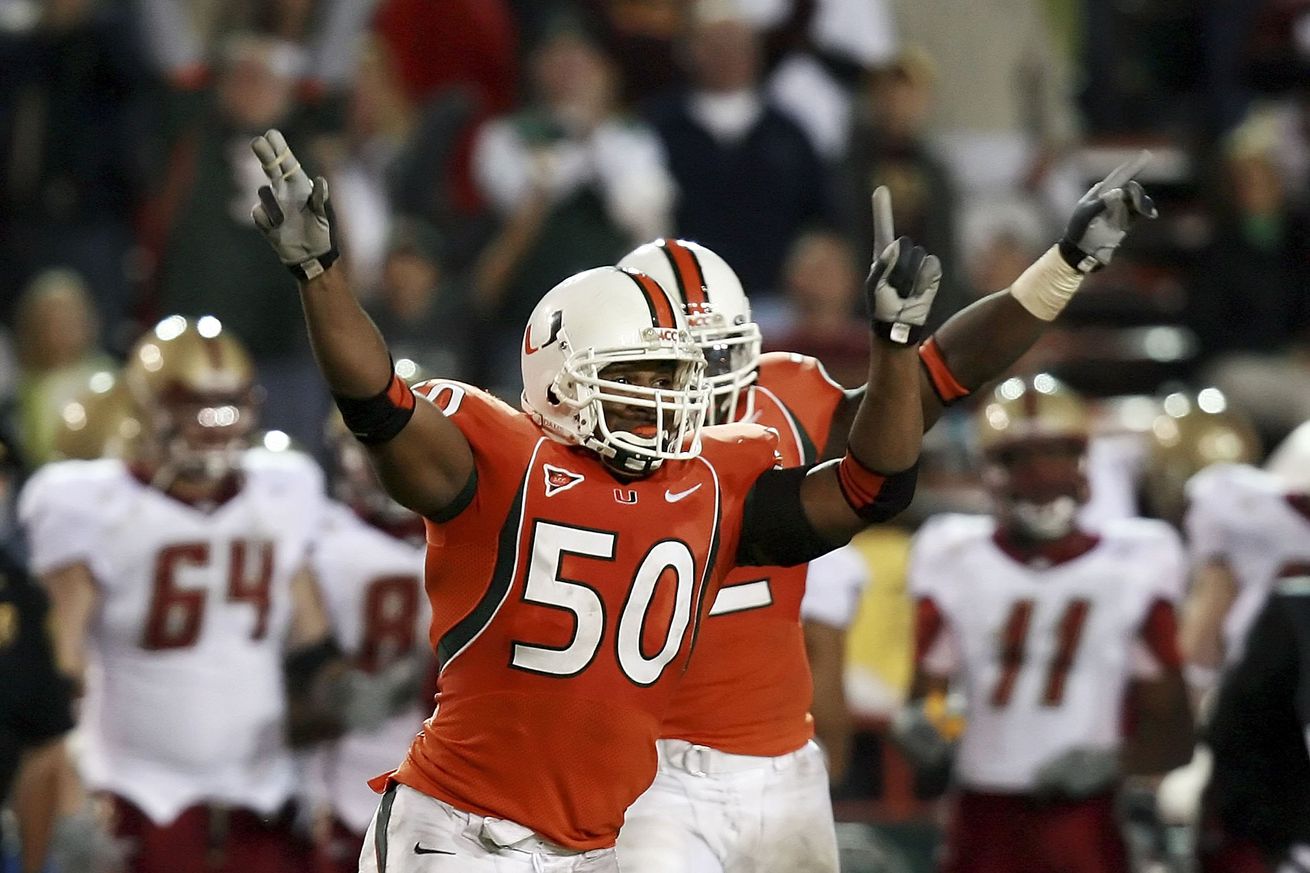 The perfect Cane would be a god on campus if he had the traits of these former players.
If there is at least one thing that Miami has been able to generate consistently over the past few decades, it's linebackers. From Jesse Armstead to Ray Lewis, the U has been a home to some of the best LB's to ever step on a football field. Nothing says "legacy" more than when players like Shaquille Quarterman is continuously asked about living up to the hype of those in the past. And even then, Quarterman is probably the closest thing to being a perfect cane if he continues to develop, but that's another story. To build a perfect Cane in this position is like building damn near a god. Not only will this person be the fastest LB on the field, he's also going to be the meanest and something much scarier, the smartest. However, there are some critical factors that this imaginary player must have to be the perfect Cane, and thankfully we have a plethora of legendary players to choose from.
Let's get into it.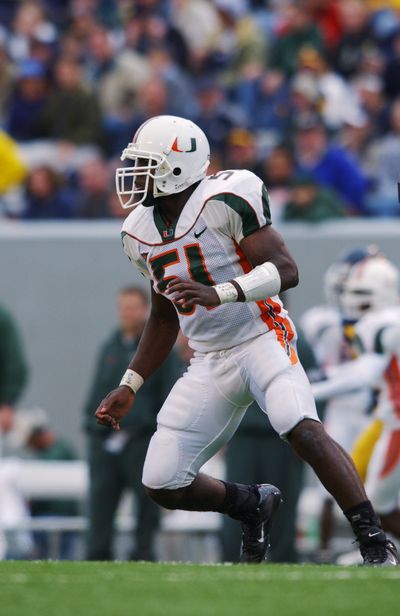 If there's one player that the perfect cane has to resemble (or at least Quarterman does right now) it has to be Jonathan Vilma. Though his size was unfamiliar at the Linebacker position in the early 2000's, Vilma was still able to pull off hard hits and critical turnovers against offensive threats during his tenure. However, outside of the physical aspects of his game, his intelligence at the position made him a serious threat. I can talk to you about how he maintained a 3.5 GPA while playing or him receiving his bachelor degree in finance instead of leaving early, but that doesn't match to how his mind and body can easily maneuver through those trenches every Saturday. Whether he was playing zone or running downhill, Jonathan Vilma always found a way to find an opening through the offense's scheme and their line's holes to catch an offensive player slipping. Remember that big hit Vilma made against Nebraska in the 2001 National Championship game? You know, the one that became a fumble. You do know that play was a reverse, right? As a former defensive end/linebacker, that play will completely catch you off guard. It caught almost all of the players on that field....not Jonathan.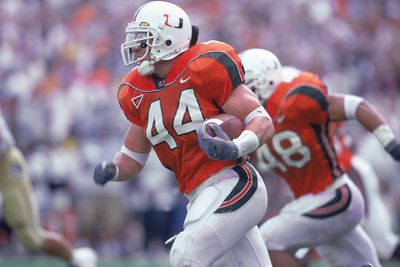 If the perfect Cane has the mind of Jonathan Vilma, then he has to have the tackling skills of Dan Morgan. Dude was originally supposed to be a fullback when he was a freshman but moved over to linebacker. Lord that would have been a mistake, because we wouldn't have had anyone to match how much he contributed to the U in that position. During his 4 year tenure at Miami, Dan broke the record for career tackles with 532 total tackles, 309 were him alone and the other 239 were with friends. He was a missile on the field, once he found you, he would bring you down effectively. Morgan also won the Dick Butkus, Bronco Nagurski, and the Chuck Bednarik award in the same year. If you were a running back facing number 44 in the trenches, you might not be in the best position to score. Also, my man was out here catching interceptions as a weakside LB.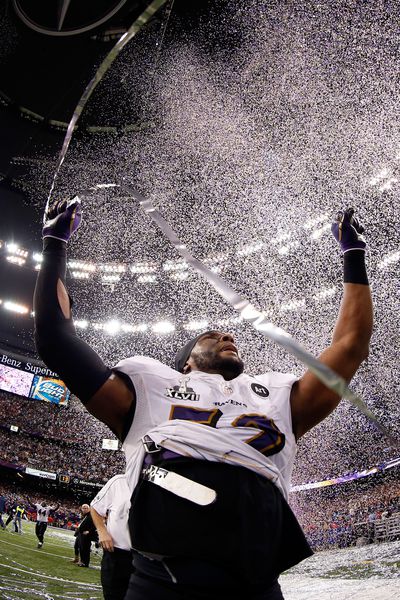 Leadership - Ray Lewis (1993-1995)
This is kind of a no-brainer. While most of these linebackers have taken some form of leadership on Miami's defensive side, Ray Lewis' leadership on the field cannot be unmatched. Sure, his years at Miami were beautifully brief after racking up 394 tackles as well as two interceptions, two sacks, and even a touchdown. However, his leadership in his brief stint helped him become the Hall of Fame player he is today. Ray Lewis was literally named the "greatest leader in team sports history" by ESPN. He won two Super Bowls, had over 2000 tackles in the NFL and was the face of the Baltimore Ravens for almost two decades. There are few football players that have managed to lead an entire organization like this GOAT did for both the U and the Ravens. Imagine the leadership of Ray Lewis being possessed by the perfect cane, he'd make hella tackles and lead with the confidence of a Lion.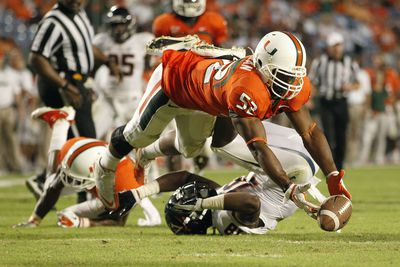 Compared to the linebacker position in the past decades, the new generation of linebackers must possess the speed and mobility to catch interceptions like DB's now. If we're being a perfect Cane, it's important to possess that mobility to be a dominant force on defense. Denzel Perryman may not have been the fastest back, but his footwork to the ball definitely makes up for it. His game tape shows that he could drop back and run zone for an interception, go through holes to get a sack, and run to any side of the field to stop a receiver in his tracks. His speed also got him to the backside of an offense a lot and made his hits look like art. Perryman ran a 4.78 as his best at the NFL Combine. He ran a 4.68 as his best during Pro Day at the U in 2015. Even with these concerns, Denzel still managed to end his college career with 351 total tackles, two interceptions (one for a touchdown), and six forced fumbles as the U's middle linebacker from 2011-2014.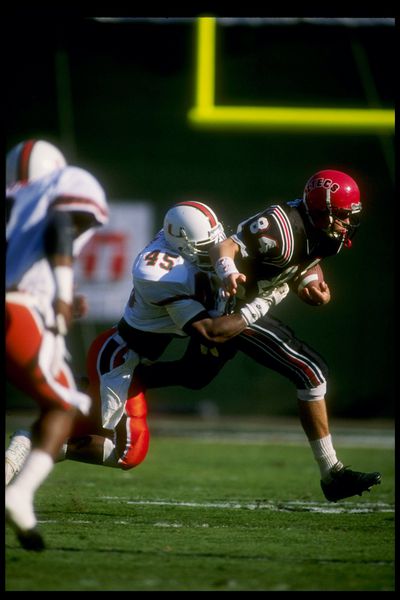 Speed - Darrin Smith (1989-1992)
While Denzel Perryman has the mobility and hit of a linebacker in the modern era, we need to add some speed to our perfect Hurricane to even match the receivers. If there was anyone that could match up it, it would be Darrin Smith. As another linebacker on this list to be in the UM Sports Hall of Fame, Smith was documented as one of the fastest linebackers at the U hands down. He was the strongside linebacker in "The Bermuda Triangle," one of the greatest LB groups to step on the field consisting of Smith, Jesse Armstead, and Michael Barrow. How fast were they? Well, according to the Baltimore Sun, these LB's were faster than all but one of their top five running backs of that time. These linebackers were fast long before it was such a common thing and its what helped the University's football team bring in two national championships in 1989 and 1991. Darrin's speed was also a huge benefit to him once he was in the NFL. Not only did his 40-yard dash concluded with a 4.42 time, that skill helped him earned two Super Bowl and a 12-year career in the NFL.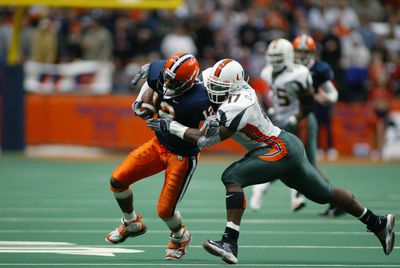 Size/Versatility - DJ Williams (2000-2003)
DJ Williams is known for having a number of characteristics to make the perfect linebacker for the University of Miami, but in this case, his size would be perfect. The reason we say this is in his Senior year, he was at the perfect size of 6'0 and 250 pounds. He wasn't too tall to get into the DB's way nor wasn't he too small to miss passes or get pancaked by an offensive lineman. He also had some work in as RB, which shows versatility among the other candidates, and was also fast enough at that size to run a 4.45 second dash time at the NFL Combine in 2004. Wanna know who had the same size after years at the pro-level and became great? Ray Lewis. Lewis was a light 205-pound LB when he was at the U in the early 90's, and played in the NFL at a solid 260, only ten pounds up from where Williams when he played for Miami for the 2000-2003. You give the perfect Cane that size at the college level, he's already an NFL prospect on some scouts' lists.
Now, we do know that there are probably some LB's that we might have missed out on due to the number of greats to come out of the U in this position. However, we'd love to hear from you who we missed.
Feel free to leave a comment below.