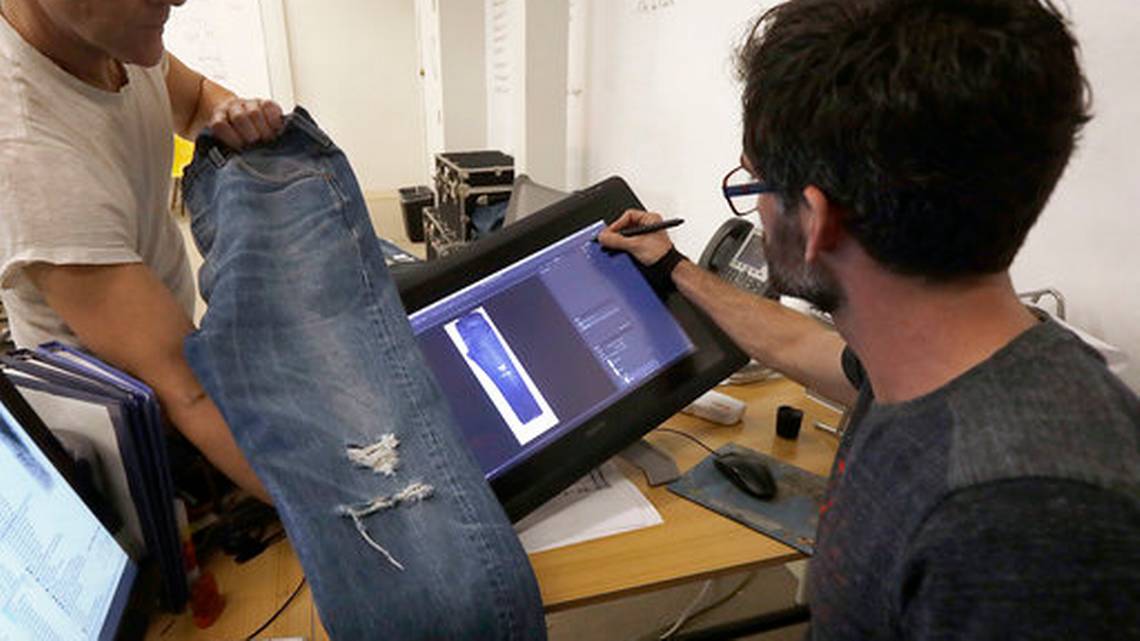 Prototypes? Passe. Fashion company Betabrand saw that knitwear was a hot style in sneakers and wanted to quickly jump on the trend for dressier shoes. It put a poll up on its website asking shoppers what style they liked, and based on that had a shoe for sale online in just one week.
What web shoppers saw was a 3-D rendering — no actual shoe existed yet. Creating a traditional prototype, tweaking the design and making a sample would have taken six to nine months, and the company might have missed out on the interest in knit.
"The web attention span is short," said Betabrand CEO Chris Lindland. "So if you can develop and create in a short time, you can be a real product-development machine."
Shoppers looking at the shoe online could examine the peekaboo detail or check out how the sole was put together, as they would from photos of a real product. They don't get the actual shoes instantaneously — they have to wait a few months. But the use of digital technology in designing and selling means hot trends are still getting to people far faster than under the old system.
"Retailers and brands who are embracing this are going to be winners of the future," said David Bassuk, managing director of consulting group AlixPartners. "This is flipping the business model on its head."
It's a big cultural change for clothing makers. For decades, the process meant designers sketched ideas on paper, a design got approved, and the sketches went to a factory that created prototypes. Designers and product developers made tweaks and sent prototypes back and forth. Once a final version was approved, it was sent to the factory to be copied for mass production. Getting something from design to a store could take at least a year.
Now, some companies have designers sketching on high-resolution tablets with software that can email 3-D renderings of garments with specifications straight to factories, as better technology makes the images look real and the pressure to get shoppers new products swiftly intensifies. The goal is to reduce to six months or less the time it takes to get to store shelves.
Even chains like H&M, which once set the standard for speed by flying in frequent small batches, are realizing that's not fast enough. H&M, which has seen sales slow, is starting to digitize certain areas of its manufacturing process.
For clothing makers and retailers, the shift means design decisions can happen closer to when the fashions actually hit the shelves or website. That means less guessing so stores aren't stuck with piles of unsold clothes that need to be discounted.
The 3-D technology is used in just 2 percent of the overall supply networks, estimates Spencer Fung, group CEO of Li & Fung, which consults with more than 8,000 retailers including Betabrand and 15,000 suppliers globally. But he believes that will change as retailers begin prioritizing speed and realize that cutting down on design time and prototypes saves money.
"You can actually essentially create an entire collection before you even cut one garment," said Whitney Cathcart, CEO of the Cathcart Technologies consulting firm. "So it reduces waste, it reduces lead times, it allows decision making in real time, so the entire process becomes more efficient."
Fung imagines a scenario where a social media post with a celebrity in a red dress gets 500,000 "likes." An alert goes to a retailer that this item is trending. Within hours, a digital sample of a similar dress is on its website. A factory can start to produce the dress in days.
"Consumers see it and they want it now," says Michael Londrigan of fashion college LIM in New York. "How do you bring it to market so you don't miss those dollars?"
Nicki Rector of the Sonoma Valley area in California bought a pair of Betabrand's Western-style boots last summer based on the 3-D rendering.
"It looked real," said Rector, who examined the images of the heel and the insoles. She didn't worry about buying off a digital image, reasoning that if you're buying online you can't really know how something's going to fit until you put it on your feet. She said knowing it was designed from customer input also helped make the wait OK.
Betabrand has sold 40,000 pairs of shoes priced from $128 to $168 over the past year, all from digital renderings, and plans to add 15 to 20 such projects this year.
At a Levi Strauss & Co. research and development facility in San Francisco, designers use programs that offer the look of a finished garment and let them make changes like adding pockets quickly, rather than requiring a new prototype. When they're set, they can send a file to the factory for mass production. Using digital samples can shorten the design time to one week or less from an eight-week timeframe, Levi's says.
Few companies are yet selling directly to shoppers off digital renderings like Betabrand, and are instead showing them to store buyers or to factories rather than using traditional samples.
Xcel Brands uses them for its own brand of women's tops and for the company's Judith Ripka jewelry line. The company, which also makes clothes for Isaac Mizrahi and Halston, will start using them for other brands within the year. CEO Robert D'Loren hopes to start putting 3-D samples on its website next year.
Tommy Hilfiger has an interactive touchscreen table where buyers can view every item in the collection and create custom orders. And Deckers Brands, the maker of Ugg boots, is using digital renderings of the classic boot in 10 colors, eliminating the need for 10 prototypes for store buyers. That helps reduce cost and increases speed.
Using digital designs also mean the exact specifications for different Levi's design finishes can be uploaded to a machine that uses lasers to scrape away at jeans. No need to teach employees how to execute a designer's vision, in a minute and a half the lasers have given the jeans the exact weathered look that took workers wielding pumice stones twenty minutes to half an hour.
"Thirty years ago, jeans were only available in three shades — rinse, stonewash and bleach," said Bart Sights, head of the Levi's Eureka lab. "Our company now designs 1,000 finishes per season." Such a long lead time "pushes production and creation too far away." Levi's latest technology alleviates this issue, he said.
____
AP Video journalist Terry Chea in San Francisco contributed to the report.