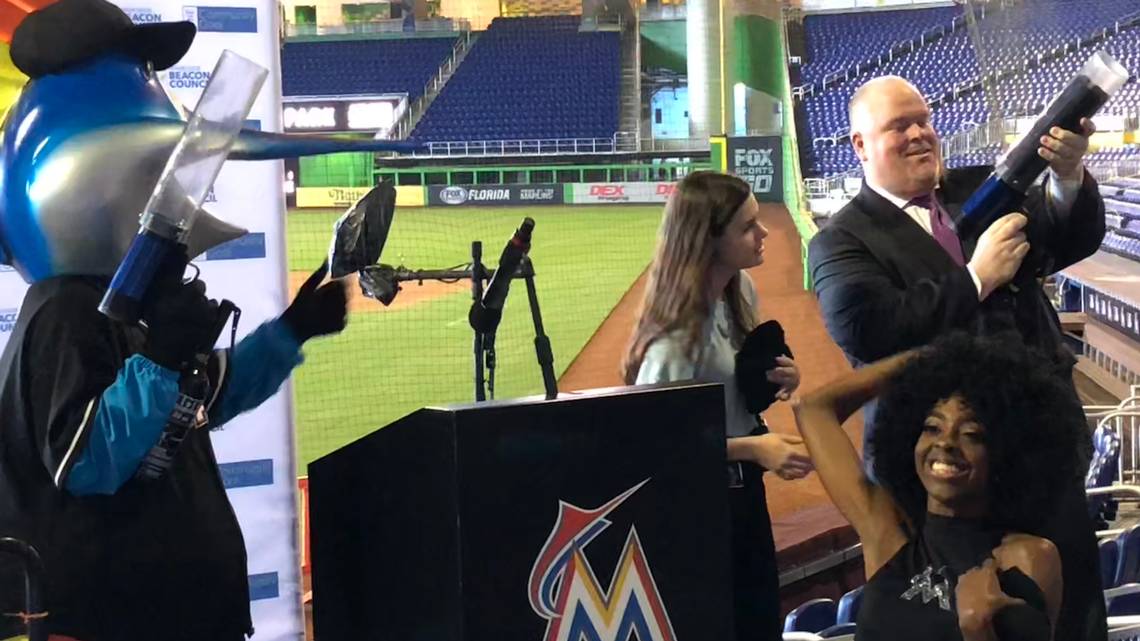 Tech remains the fastest-growing sector of the Miami-Dade economy, the county's Beacon Council economic development agency said at its annual One Community One Goal (OCOG) report-out event Wednesday.
Though tech jobs still account for fewer than 1 percent of county jobs measured by the agency, those positions grew 40 percent between 2012 and 2018 and now total 11,440, it reported.
That's a faster rate than the 32 percent growth for tech jobs reported at last year's event.
"The tech ecosystem is one we've really been building intentionally, especially with promoting entrepreneurship," said Maria Alonso, president and CEO of United Way and co-chair of One Community One Goal. "It's not a surprise, but the number was really eye opening, especially when you look at the growth in other sectors."
The event releasing the 2018 report took place at Marlins Park in Little Havana. More than 1,000 people attended.
Job growth across all of Miami-Dade's industries has climbed 15 percent since the OCOG initiative kicked off in 2012, while growth in the BEACON' Council's seven targeted industries—aviation, banking and finance, creative design, hospitality and tourism, life sciences and healthcare, trade and logistics, and technology—increased 18 percent.
The One Community One Goal initiative is aimed at diversifying the local economy. It followed a 2011 study showing key areas where the county should concentrate its economic development efforts. The Beacon Council and other key community organizations — including the Knight Foundation, Career Source SouthFlorida, Baptist Health and United Way — have used the plan to invest in local job creation.
Penny Shaffer, Florida Blue Market President and One Community One Goal Co-Chair, said the next job will be to scale Miami's galaxy of startups.
"It's about having businesses understand their marketing plans, having a solid business plan, and making scalability resources accessible," she said.
Also on the docket in the coming year: a $15 million marketing campaign to boost the city's business profile to the outside world, with a particular emphasis on its resiliency and talent. Miami-Dade Mayor Carlos Gimenez, another OCOG Co-Chair, said the county has already earmarked millions toward transportation and water and sewage projects.
FIU President Mark Rosenberg said the OCOG project will be key to promoting the county's "brain gains."
"Talent is key, talent is a driver, talent is everything," he said. "Through One Community One Goal we have come together to provide necessary tools to develop a strong talent pipleline."
FASTEST GROWING SECTORS
One Community One Goal's target industries by growth between 2012 and 2018, according to the Beacon Council. (The numbers in parentheses are the number of jobs added over the period):
Technology: 40 percent (+3,267)
Aviation: 24 percent (+5,056)
Trade and Logistics: 24 percent (+7,982)
Hospitality and Tourism: 22 percent (+27,439)
Creative Design: 16 percent (+4,724)
Life Sciences and Healthcare 13 percent (+15,813)


Banking and Finance: 7 percent (+2,734)
Total Target Industries: 18 percent (+67,015)

All Industries: 15 percent (+171,885)
Largest industries by job count, 2018
Hospitality and Tourism: 152,210


Life Sciences and Healthcare: 141,205
Trade and Logistics: 41,417
Banking and Finance: 40,557
Creative Design: 34,070
Aviation: 26,504
Technology: 11,440
Total Target Industries: 447,403

All Industries: 1,310,870