Miami Culinary Tours

gives the "Miami As-Melting-Pot" concept a new edible meaning, offering daily food tours throughout the city's most celebrated neighborhoods. From Cafe Cubano to Peruvian Ceviche, they bring you everything South Florida's culinary communities have to offer as well as the culture and tradition behind those doing the cooking.
We experienced the 

Miami Design District

with the #1 Rated Food Tour in Miami on TripAdvisor, it was amazing. Book one of the Miami Culinary Tours for a memorable foodie adventure, check out their calendar for availability.
Explore one of Miami's hottest neighborhoods differently through breathtaking public art installations, storytelling and of course amazing cuisine with the one and only Miami Culinary Tours. Private tours are available weekly in popular areas throughout Miami such as Little Havana, the Wynwood Arts District and South Beach, to name a few.
Our group met at the Fly's Eye Dome in Palm Court where we were introduced to our private tour guide Mirka Roch Harris, a local dining expert, knowledgeable about Miami's restaurants, design, fashion, and public art installations.

The 2.5 hour tour began at 

St. Roch Market

, offering about a dozen curated food and retail vendors under one roof, including a vegan eatery by chef Chloe Coscarelli. We sampled several counters where the dishes were prepared fresh, made with the finest ingredients.
We enjoyed tastings at Dal Plin by Massimo and Elisabetta Tundo, originally from Milan, Massimo and Elisabetta learned from their Italian families how to make authentic pasta with recipes passed down through generations. We devoured a helping of their signature plin, a meat-filled pasta, much like a ravioli, but shaped slightly different.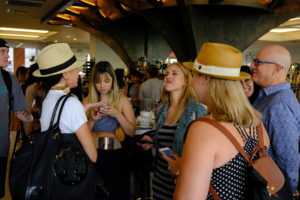 You will find the most scrumptious spring rolls at

Tran An

 by Chef Jon Nguyen, whose career has taken him to kitchens all over the world. From his culinary training at Le Cordon Bleu in Paris, to living and working in Vietnam where he was able to experience his native roots and the origins of Vietnamese food.
He has worked under Tien Ho, Executive Chef at Momofuku Ssam Bar, and Danny Meyer at his two-Michelin-Starred restaurant in the

MoMa Museum: The Modern

. Tran An is named after Chef Nguyen's grandfather, and the menu is inspired by the flavors and recipes of his family's hometown in Hanoi.
Named one of the world's best food halls by

Travel & Leisure

, St. Roch Market opened in the Design District in early 2018. The Market offers a unique dining experience and an excellent craft cocktail bar. Diners will enjoy a diverse line-up 12 chef-driven concepts, with a wide breadth of menu items ranging from sushi, to pasta, to acai bowls.
There is so much to be enjoyed throughout the district, a true creative paradise dedicated to innovative fashion, design, art, architecture and dining. One of our favorite spots was 

Estefan Kitchen

, a fine-dining Cuban restaurant opened by international superstars Emilio & Gloria Estefan. Helmed by Chef Odell Torres, who was recently named one of Miami's Hot New Chefs by Ocean Drive Magazine.
We stopped along the way for some authentic Mexican street food at Le Pollita, a Cali-Mexican Food Cart supporting local agriculture, fair-trade coffee, and awesome tacos.
Upstairs at Palm Court a prepared wine tasting awaited us at Abaco Wines & Wine Bar. They offer retail wine and scheduled wine pairings with some of the world's greatest wines and vintages. Its staff of highly trained sommeliers are eager to talk to you about your growing wine collection.
Our tour began winding down with treats like

Aubi & Ramsa

21+ Ice Cream, a Miami based brand of ultra premium, wine & spirit infused ice cream. Discover their dedication to crafting the finest ice cream, made with organic ego and the perfect amount of entitlement.
We also cooled down at the 
MadLab

Creamery & Chocolaterie with soft serve ice cream, Japanese cheesecake and chocolate by Chef Soraya Caraccioli-Kilgore. Options range from traditional sprinkles and fresh fruit to cotton candy, edible glitter, and Kilgore's special Japanese cheesecake.

 

 
Our ice cream stood out like Gaetano Pesce's unique façade feature at MadLab topped off with a wisp of cotton candy, hand spun to order and a nice dusting of glitter. The floor of the shop looked equally as delicious and visually appealing as the decadent desserts, also designed by 

Gaetano Pesce

.