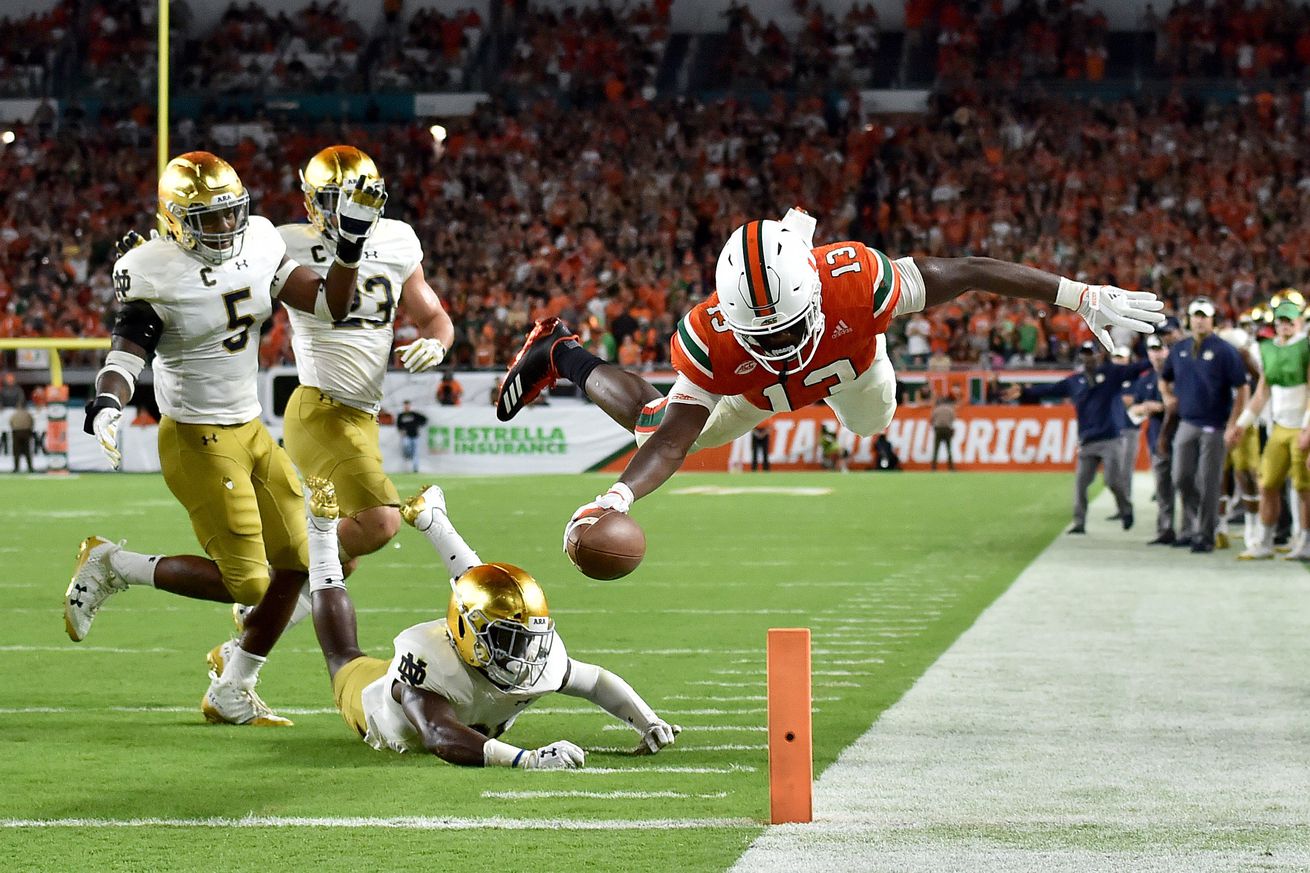 The Ambassador of the 2017 recruiting class is a dynamic weapon for the Canes' offense.
The Miami Hurricanes are blessed with a wealth of talent at the offensive skill positions. No player at those positions has a more widely diverse set of skills than sophomore RB DeeJay Dallas.
A 4-star recruit from Brunswick (GA) Glynn Academy in 2017, Dallas picked Miami over heavy interest from Alabama, Georgia, and several other top tier programs. A HS QB who also played RB, WR, and DB at times, Dallas repeatedly stated that he loved Miami, loved the bravado and swag of the Canes, and was locked in and excited to add his personal flavor to the group.
With an engaging personality and outspoken nature, Dallas didn't even wait until he got to campus to make his words come true. He was (and is) wildly prolific on social media, frequently speaking out and supporting all things Miami. I even wrote about his social media expertise 2 years ago (he's since deleted the tweets or I'd link that piece for you).
Good thing for DJD, and Miami, that the 5'11" 220lb RB is more than just talk.
After playing WR in the spring of 2017 after enrolling early at Miami, Dallas was switched to his more natural position, RB, after some injuries — mainly to starting RB Mark Walton — made the depth at the position questionable. And, while Dallas had found his way onto the field at WR and in the return game prior to the move, he really blossomed once switched into the backfield.
Blessed with ELITE short area quickness (seriously, it's uncanny how quick DJD is), Dallas can make a man miss in close quarters, or in space. He runs hard, showing why teams such as Alabama heavily recruited him as a prep player, and can be a mismatch at RB, Slot WR, or wildcat QB.
As a freshman, Dallas had 41 carries for 217 yards and 3 TDs to go along with 4 catches for 92 yards. No, those aren't the biggest numbers in the year, but if you watched the Canes in the 2nd half of the year, you saw DeeJay Dallas have an impact on a routine basis.
Dallas' real coming out party was against the Notre Dame Fighting Irish. In just his 2nd game back at RB, Dallas had 12 carries for 53 yards and 2 TDs, including the diving TD pictured above. The picture is worth 1,000 words, sure, but the video is glorious, too.
Yeah.
Moving into the 2018 season, Dallas is a player who Miami will work to feature in a number of ways. He will get the ball as an RB, but still move to the slot and wildcat QB at times, as well. I've said before that Dallas' best position is "Offensive Weapon" where Miami can move him around to create mismatches and highlight his elite skills. Now up to 215lbs after playing 2017 at 190lbs, Dallas should be able to add "power back" to his impressive list of skills.
With more than 300 yards from scrimmage as a freshman, DeeJay Dallas played well for a Miami offense that is loaded with playmakers. But, heading into 2018, he looks to go from complimentary piece to featured player. And, whether that's in the backfield, in the shotgun, or in the slot, Dallas stepping into a bigger role should be nothing but positive for the Canes.