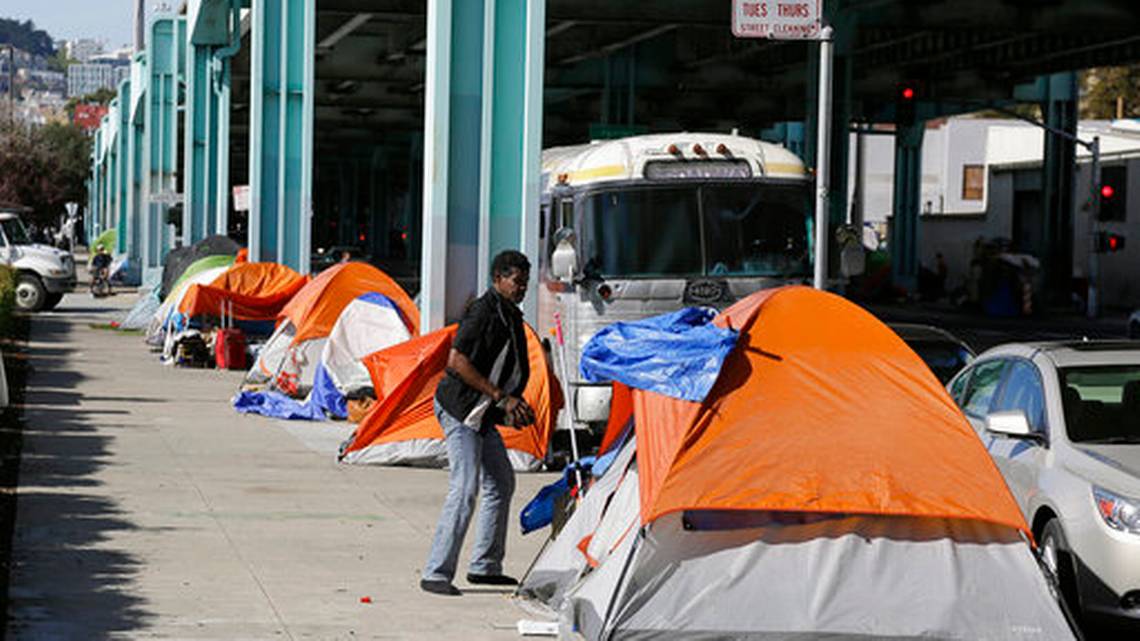 San Francisco voters will decide in November whether to tax large businesses to pay for homeless and housing services, an issue that set off a battle in another West Coast city struggling with income inequality.
The city elections department verified Monday that supporters had collected enough signatures to get the measure on the ballot. It would raise about $300 million a year — doubling what San Francisco spends on homelessness — for more shelter beds and housing for people who are homeless or at risk of becoming so.
The money would come from an average half-percent tax increase on companies' revenue above $50 million each year.
Homelessness is a major problem in San Francisco, as well as other cities on the West Coast with growing numbers of high-paying tech jobs that price lower-income residents out of a shrinking housing supply. San Francisco's new mayor, London Breed, vowed to clear the streets of its tent camps within a year of taking office.
"I think the city is really ready for this," said Christin Evans, a San Francisco small-business owner and one of three petitioners on the measure. "We have a lot of momentum behind us, and more than a majority of the voting population is renters. We're polling very well."
Seattle leaders last month repealed a tax on large employers that was meant to fund homelessness services after Amazon pushed back.
But south of San Francisco, Mountain View's City Council got a measure on the November ballot asking voters to authorize a tax on Google and other companies with employees in the Silicon Valley city.
It's unclear which companies in San Francisco would be affected and how hard by the additional tax on gross receipts. Jim Lazarus, senior vice president of public policy for the San Francisco Chamber of Commerce, estimates up to 1,000 businesses generate more than $50 million a year.
The companies could include Twitter, which declined to comment Monday. Other companies that could be affected, such as Uber, pharmaceutical distributor McKesson Corp., Google, Apple and Amazon did not respond to requests for comment.
Other businesses that could be affected include department stores, supermarkets, law firms and clothing makers such as Levi Strauss & Co., Lazarus said. The chamber will likely oppose the measure.
Marc Benioff, founder and chief executive of cloud-computing company Salesforce, has urged others in the tech community to help address the city's problems with homelessness.
The city's largest tech employer said in a statement that it has given more than $4 million to the cause and that it is "evaluating the potential ballot measure to carefully assess its merits in addressing this important issue."
San Francisco voters last month also approved an increase in the gross receipts tax on commercial buildings and warehouses to fund universal child care.
The upcoming ballot measure is backed by a coalition that includes homelessness and gay rights groups. Up to half of the money raised would go toward permanent housing, from rental subsidies to new housing. Up to a quarter would go toward mental health services.
Jason McDaniel, a political science professor at San Francisco State University, says it is likely to pass unless political leaders band together to block it.
"I suspect that local companies don't have the same kind of relationship to the political establishment as they do in Seattle," he said. "There's no Amazon here. It's not like a company town."