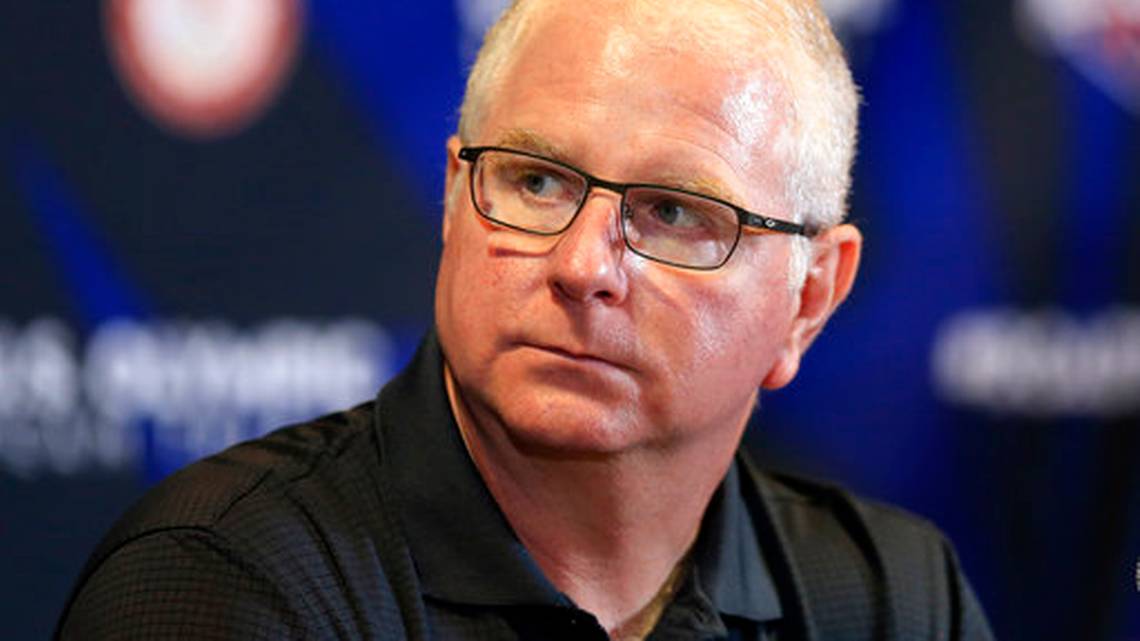 Bob Bowman, the longtime coach of retired 23-time Olympic swimming champion Michael Phelps, has acknowledged and apologized for inappropriate text messages that were sent from his cellphone to former Olympic swimmer Caroline Burckle in 2011.
At the time, Bowman was a coach for the U.S. national team, along with Sean Hutchison, who was also said to be involved in the texting.
Burckle told the Southern California News Group in a recent story that the messages "were so aggressive."
She said she reported the incident and forwarded the texts and a voice message to then-USA Swimming national team assistant coach Jack Roach, who forwarded it to then-national team director Frank Busch, who was Bowman's boss.
Busch put Bowman on notice about the incident in a June 3, 2011, letter that stressed "it is important you understand the severity of this situation," the newspaper said.
Burckle said Bowman apologized to her, but she never heard from Hutchison.
Three months later, Bowman was named an assistant on the U.S. Olympic coaching staff for the 2012 London Games. He served as head men's coach at the 2016 Rio de Janeiro Games.
"Certainly from hindsight, I don't think that's how I would have handled the situation quite frankly," USA Swimming CEO Tim Hinchey said Wednesday. "Regardless of age, gender, athlete, non-athlete, no one deserves to have communications like that."
Asked what he would have done differently, Hinchey said, "If this happened today with one of our coaches, I can't see appointing him to an Olympic team."
Hinchey said he would defer to national team director Lindsay Mintenko on the likelihood of Bowman being part of any U.S. national teams in the future.
"I haven't had an opportunity to talk to Tim about the situation yet and so it would be premature to give a comment about what he talked about today," she said. "It's kind of a team effort when we have these discussions. If it comes to it, we'll cross that bridge."
Hinchey, who succeeded the late Chuck Wielgus in June 2017, sent a letter earlier this year to members of the national governing body stating a zero tolerance policy on sexual abuse or misconduct.
"I said zero tolerance and I mean it," Hinchey said.
However, he also said he doesn't have reservations about Bowman working with swimmers going forward.
"From a coaching perspective, his resume speaks for itself," Hinchey said.
Bowman currently coaches Arizona State's men's and women's teams, and after a recent review by the university it said he's been warned that similar behavior won't be tolerated. The university said in a statement that it was unaware of the incident when Bowman was hired in 2015.
"I regret the exercise of poor judgment in being involved one evening seven years ago with inappropriate communications," Bowman said in a text to The Associated Press on Wednesday. "I promptly apologized to the person to whom the communications were sent and my apology was accepted."
Bowman is in Irvine, California, this week to coach ASU swimmers competing in the U.S. national championships.
"Bob certainly doesn't feel good about this, I can tell by his reaction," Hinchey said.
In February, former world champion swimmer Ariana Kukors accused Hutchison of sexually abusing her for years and has filed a civil suit against him, USA Swimming and former national team director Mark Schubert, among others. Hutchison has said it was a consensual relationship.
Hinchey confirmed that Hutchison is no longer a member of USA Swimming.
Burckle won a bronze medal as part of the U.S. 4x200-meter freestyle relay at the 2008 Beijing Olympics. The next year she trained under Hutchison in Fullerton, California, before retiring in 2010 at age 24.
Now 32, she said she is speaking out in an effort to change the culture within swimming and Olympic sports.
"For me it's the principle of it," Burckle told the newspaper. "It's about giving people the respect they deserve and shouldn't have to ask for."
Arizona State Vice President of Athletics Ray Anderson reviewed the matter involving Bowman after being alerted to it by the Southern California News Group story. During an interview with Anderson, Bowman confirmed his involvement in the text messaging, the university's statement said.
ASU said Bowman apologized to Burckle, whom it didn't name, in front of Busch, who recommended Bowman to ASU when it was hiring a coach.
Anderson said ASU hasn't received any allegations of misconduct related to Bowman from students, faculty or staff.
USA Swimming said in a statement that in 2011 it was made aware of inappropriate texts sent to an adult former member athlete by a member coach. It didn't name Burckle or Bowman.
"The organization does not condone this type of communication no matter the relationship between the parties," USA Swimming said. "The issue was addressed by USA Swimming, and warning letters were issued to the offending parties, which also included a non-athlete member in the presence of the coach."